If the only constants are death, taxes, and change, then the Busch brothers – 2004 Cup winner Kurt and his younger brother Kyle – fall into line.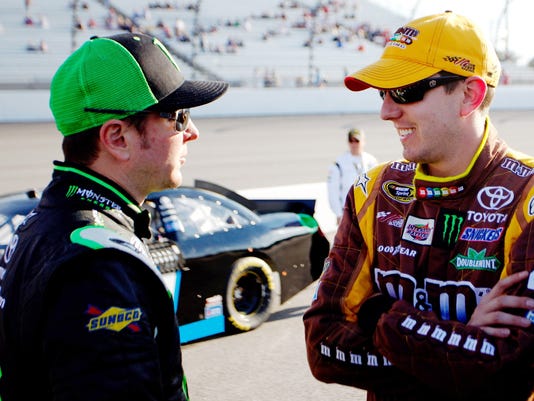 Both brothers have had their fair share of outbursts, petulant moments, poor choices, rants, and lamebrain moves that have won them no favor in public opinion. Yet both drivers have also shown sheer brilliance behind the wheel. Their talent unmistakable and unavoidable cannot be denied.
Although Kurt has a Cup, in the nine years since he has found himself out of a job with some of NASCAR's best teams.
Jack Roush bid him adieu in 2005 after more than five years together and one Cup championship. It was Kurt's decision to join Roger Penske's Cup organization, the No. 2 car vacated by Rusty Wallace. Roush may have been unhappy at first but eventually gained David Ragan.
Penske kept Kurt in his stable until the end of the 2011 season. A laundry list of problems, some known to the public others perhaps not, contributed to the separation which was called a "mutual agreement to part ways".
Abusive language to teammates, other drivers, despicable behavior, and uncontrollable outbursts including verbally attacking respected member of the media Dr. Jerry Punch at Homestead-Miami Speedway in the season closer in 2011 showed Busch was coming apart at the seams according to public opinion
James Finch agreed to take Kurt on in the 2012 season to run for his Phoenix Racing. If nothing else the name seemed prophetic as Kurt is akin to the proverbial bird that keeps rising from the ashes. But still Kurt's mouth got him in trouble prompting NASCAR to put him on probation that season. Public opinion once again turned against Kurt.
Despite all of the headlines Kurt continued to do what he does best – drive. He landed a job with Furniture Row Racing for the 2013 season.
And, with raw determination, a powerful, positive new attitude and an obviously reined in personality, Kurt piloted the No. 78 FRR car to a berth in the 2013 Chase, a rarity for a single-car team.
Seeing the emotion in his eyes, the breathiness of his voice upon learning he'd raced himself into the Chase was moving. This Kurt seemed to be a man who had possibly changed. A man who had
been at the top, fallen hard, and had climbed his way back to another chance.
Kurt is a man with the love of a good woman and her son, a boy who makes Kurt want to be a better man.
As a former champion, Kurt knows how to string together a championship season. The question is, are there enough resources and is the team backing him able to contend for the remainder of the Cup season with multi-team, big-budgeted organizations?
If anybody could do it this season, it will be Kurt.
Kyle Busch is Kurt's younger brother. Although he has yet to earn a Cup, Kyle is arguably the more impressive career-wise with accolades, wins, and records set in NASCAR's top three series.
Kyle has a legion of loyal, rabid fans who love his go-for-gold driving style no matter the
competition. Kyle is aggressive, focused, dominant, unapologetic, arrogant, and a bit of a punk, but his fans love him for it.
On the flipside, Kyle has also become persona non grata to many fans who just cannot tolerate his attitude, his dominance (especially in the NCWTS and NNS), and his petulant mood in post-race interviews if he does not win.
Kyle has made unfortunate decisions in his career and personal life that allow the media and fans to criticize. Right or wrong, Kyle is a badboy of NASCAR – like his big brother Kurt – and he seems fine with it.
What has plagued Kyle in his career in NASCAR is the ever elusive Sprint Cup. It is the reason driver's compete in this sport. The championship is the Holy Grail, the greatest achievement, and the only thing most remember when they recall seasons past.
What Kyle and Kurt have in common, it seems, are both strong negatives and positives.
The positives include having the love of a good woman in their corner. No matter what popular opinion says about the respective drivers, how the media or the fans crucify them, their women stand by proudly and lovingly supporting their men. For some that may seem silly to include, but history has shown that a truly great love can sustain and propel a driver to greatness.
The Busch Brothers are certainly separate entities, but being family they have shared traits. This season it seems both have great shots at going farther in the Chase than they've had opportunity in recent seasons.
Kurt will have some great momentum as he begins 2014 in his new ride at Stewart-Haas Racing. And, after two Chase races in which he scored a second in both, Kyle Busch is still in position to contend mightily for the Cup.
Regardless of how these two drivers finish, they certainly make watching interesting. Witnessing the changes that are occurring with both Busch Brothers – whether real or perceived – are yet two more reasons why I love NASCAR.