Evidently Denny made some disparaging remarks after the race in Phoenix about the Gen 6 car.....on RACEHUB he was so mad and said they could suspend him but he wasn't paying the fine.....WOW....I am sorry but I don't know what he said that wasn't true or that bad!!



Hamlin fined for Phoenix post-race comments UPDATES: NASCAR has fined driver #11-Denny Hamlin $25,000 for comments he made following the March 3 NASCAR Sprint Cup Series race at Phoenix International Raceway. NASCAR determined that Hamlin violated Section 12-1 (actions detrimental to stock car racing) of the 2013 NASCAR Rule Book. NASCAR issued the following statement regarding the penalty: "Following the NASCAR Sprint Cup Series event last Sunday at Phoenix International Raceway, Denny Hamlin made some disparaging remarks about the on-track racing that had taken place that afternoon. While NASCAR gives its competitors ample leeway in voicing their opinions when it comes to a wide range of aspects about the sport, the sanctioning body will not tolerate publicly made comments by its drivers that denigrate the racing product."(NASCAR)
Comments: NASCAR did not announce the specific comment that got Hamlin fined, but the following appears to be his primary complaint against the car after the race (per Toyota PR):
Q: How much did you learn about the new race car today?
Hamlin: "We learned a lot. I don't want to be the pessimist, but it did not race as good as our generation five cars. This is more like what the generation five was at the beginning. The teams hadn't figured out how to get the aero balance right. Right now, you just run single-file and you cannot get around the guy in front of you. You would have placed me in 20th-place with 30 (laps) to go, I would have stayed there -- I wouldn't have moved up. It's just one of those things where track position is everything."(3-7-2013)
UPDATE: Denny Hamlin said on Thursday that he refuses to pay the fine that NASCAR assessed him after comments he made regarding the new Generation 6 car last weekend at Phoenix International Raceway. The car debuted in the Sprint Cup Series this season. "Ultimately, I'm not OK with it," Hamlin said of the penalty. "This is the most upset and angry I've been about anything in a really, really long time anything that relates to NASCAR ... the truth is what the truth is and I don't believe in this, I'm never going to believe in it. As far as I'm concerned, I'm not going to pay the fine. If they suspend me, they suspend me. I don't care at this point."(Fox Sports)(3-7-2013)
UPDATE 2: NASCAR VP of Competition Robin Pemberton discussed the fine Thursday afternoon:
Q. Denny Hamlin was saying he's not planned to pay the fine that he was given for his comments. What would be the procedure and how long does he have to pay?
ROBIN PEMBERTON: He also has the ability to appeal. The fines are supposed to be paid as soon as possible, but we're not in any of those windows yet where it seems to be a problem.
Q. Where is the limitation for what drivers can say without facing a fine if they have concerns about the car, whatever?
ROBIN PEMBERTON: We give them quite a bit of latitude, but you can't slam your racing, you can't slam your product. That's where it crosses a line.
Q. If Denny wants to appeal the fine, what would that process entail?
ROBIN PEMBERTON: He has to let us know. He has to write a letter.
Q. He can continue to compete?
ROBIN PEMBERTON: Yes. It's like every other appeal. Over the course of time, you remember mechanics and crew chiefs, whatever, if they appeal, then they can continue to carry on business as usual until the appeal has been heard and ruled on.
Q. Just to clarify on that. When he does appeal, does it also go to the National Stockcar Racing Commission and then to the chief appellate officer?
ROBIN PEMBERTON: This isn't any different than an illegal part or piece.(NASCAR)(3-7-2013)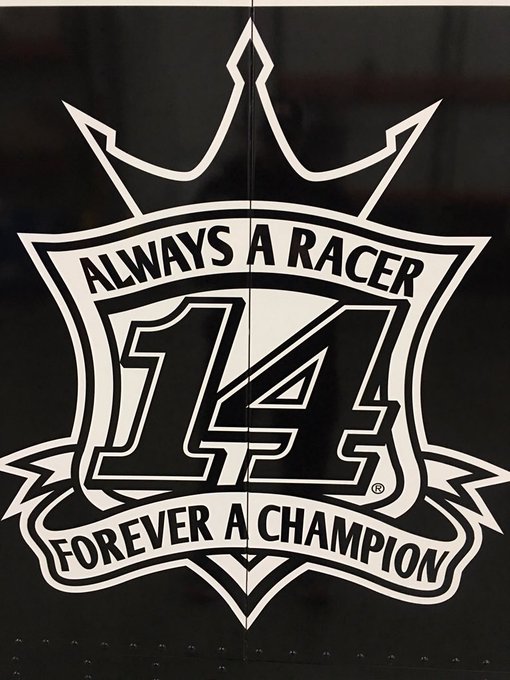 Get Well Soon......
"Fight for four"..Me