All things Danica
Danica Patrick was voted the 2012 Most Popular Driver in the Nationwide Series.
Way to go Danica!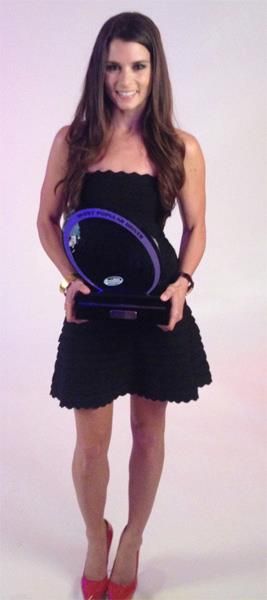 Thanks---I just saw that this morning from Pressdog myself. Link:
http://pressdog.typepad.com/dogblog/201 ... river.html
Iam sure on THIS site though that WE are FEW here that are happy about this, as there arent many fans of hers here and thats a shame since she Is an SHR driver but Oh well? GOOD for her and verifys her status not that she needed to be verified in any way--Danica is one of a kind.
For fans of JoHanna Long she came in 4th so good for her. She is PT but apparently ran enough races to be ON the balllot despite yrs past many were complaining WHY Danica wasnt on their ballot when she was running PT for 2 yrs. but number of PT races run a factor apparently?
Iam sure there are those who think Ricky should be most popular driver being the Champion etc and while maybe that should be true, the real facts are--Popularity has very LITTLE to do with results on the track and ive said that before. The BEST example of course--Dale JR--but--will he win again this yr and if so, what about next yr with Danica IN Cup? Just a note: Everytime I notice her twitter followers they are growing in leaps & bounds thousands more every week as more fans pick her up apparently. Watch out next yr JR---
I want to see Johanna Long in top notch equipment. She is a good driver.
"I want to see Johanna Long in top notch equipment. She is a good driver."
Facts are for her to get that--she needs to get sponsors, as money talks and those without it walk--or race PT or not at all.
What I laugh at the most regarding all other female drivers is most all female drivers say they never want to be LIKE Danica and YET --are they blind--cant they see what Danica has made for herself? Facts are--these other females always say they want to just be known as a driver--thats "bull" --and NEVER going to happen. They WILL always BE known as female drivers and when one of them starts seeing or understanding that and cleans herself up and goes looking for sponsors showing them she CAN represent them and help sell their products AS a female, then and ONLY then will we see another female with good sponsors and a better team, but NOT untill then.
Danica has done nothing even remotely immoral as most all female celebs, young & old have posed in bathing suits for magazines etc or TV stuff. Danica has been in CSI NY, portrayed in the Simpsons and other tv shows, and her own character in a Nascar game and other Video games now. IF other female drivers CANT see the advantage in that--then they deserve to live in their own little low income world where they will NEVER have a chance for anything better as race results alone WONT help them as there are lots of winning drivers without rides these days --period. This world is about $$$'s and those who can earn it, and without that-- they might as well stay home on their couch.
BTW--friends told me some time ago that those 2 young sister race car drivers (forgot their names) had both said they would love to be in magazines/photo shoots etc to earn money and get noticed to be able to drive more races but the problem with them is apparently-- no one wants them and thats another issue for some. If you dont have what it takes--your done as well-- Its a tough world.
Dale Jr. and now Danica,hmmmmmmmmm,well i guess i seen that one coming! Will be interesting next year while they are both in the same series.
Congrats Danica......doesn't hurt to be part of Jr Nation.
---
Who is online
Users browsing this forum: No registered users and 1 guest