All things Ryan
before the race they actually chatted with Ryan. Maybe things are turning around for him.
Wendy picked him to win!

Go Rocket Man!
AWESOME!!
I pick Ryan to win too. Ryan, Tony then Kyle. ??
Where there's Smoke, there's fire!
of course he got another top 5 & still no post race interview.
Congrats to Ryan & the team for their 5th place finish.
Moved up to 5th in the standings.
GO ROCKET MAN!!!!
VERY VERY PROUD OF OUR ROCKETMAN..... i do believe that beautiful Brooklyn is bringin him luck.....

Keep up the work Ryan....u Rock dude!!!



tc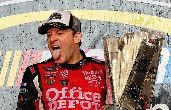 I know! I watched until the last credits, sure that Fox would interview Ryan as he was in the top 5! BOOO!
Where there's Smoke, there's fire!
well if he keeps running this good, he will be on tv every week
Awsome race by Ryan and crew. No doubt, this race was one that Ryan and Tony G. had to work together to get the race car the way Ryan wanted it. Glad to see them be able to set the car up for a great finish. Something that lacked last year.

I bet Tony S. and his pit crew have a heart to heart after this race. NO reason why he shouldn't have won the thing.

Great job Ryan and team 39!!
Rocketman is ready to Launch!!
If Ryan keeps having finishes like this, it will only be a matter of time before he wins one this season.

As for Tony, I am sure that cooler heads will prevail.
I got the butter, clams, shrimp, scallops, and corn...so where is my lobster
---
Who is online
Users browsing this forum: No registered users and 2 guests