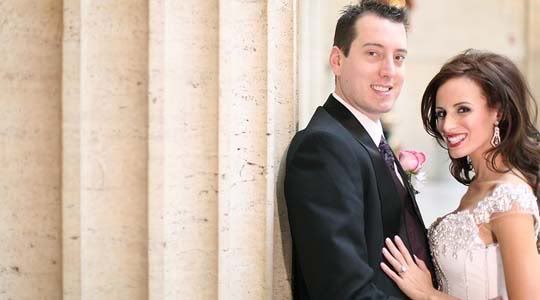 Fans to get behind-the-scenes look at the wedding of Kyle and Samantha Busch
By Jeff Owens
Friday, February 25, 2011
Kyle and Samantha Busch pose for wedding photos.
Robyn Rachel Photography
NASCAR fans will get a behind-the-scenes look at the elaborate wedding of NASCAR star Kyle Busch and model Samantha Sarcinella during a special show on March 5 on The Style Network.
From Samantha's search for the perfect wedding dress to the bachelor and bachelorette parties to the New Year's Eve ceremony and reception attended by some of NASCAR's biggest stars, the show follows Busch and his new bride throughout their special day. "Fast and Fabulous: A NASCAR Wedding" will premiere at 8 p.m. ET.
Produced by NASCAR Media Group, the show kicks off with Kyle and Samantha planning their wedding, which occurred on New Year's Eve at Holy Namehedral in Chicago. While Busch is one of NASCAR's most fierce and temperamental drivers, he yields to his fiancée when it comes to planning the wedding.
Samantha's goal was to create a lavish, one-of-a-kind affair, and with the help of her mother and a top wedding planner, she worked feverishly to make her vision of a glamorous fairytale celebration come to life.
With limited time to plan, they enlist a top-notch event team that uses high-end vendors and designers to handle each crucial element. No expense is spared for the reception party, from feathered centerpieces to chic tableware to snakeskin-covered furniture.
After much deliberation, Samantha selects Dubai-based fashion designer Michael Cinco to create her couture wedding gown, but she is nervous that his final design won't meet her expectations. Her anxiety carries over to her concerns about the couple's first dance, so she and Kyle take a ballroom dance lesson where Kyle's goofiness helps ease Samantha's stress. She even talks Kyle into joining her for a day to shop for her wedding dress accessories.
As the big day draws near, Samantha takes a break from wedding planning for pole-dancing lessons with her girlfriends at her bachelorette party while Kyle heads out with his buddies for a bachelor's day of paintball.
Those who intentionally live off another's labor will always want more free stuff!