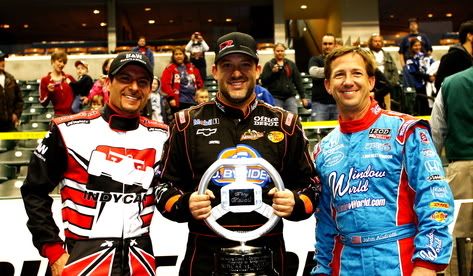 NASCAR champion Tony Stewart outdueled IZOD IndyCar Series driver Alex Tagliani and Indianapolis 500 veteran John Andretti to claim the All-Star race at the Indy Karting Classic on Dec. 11 at Conseco Fieldhouse in Indianapolis.
Stewart, who claimed the 1996-97 IZOD IndyCar Series championship before embarking on his NASCAR career, started fifth in the feature but it didn't take long for him to bounce off a wall and by heat race winner Austin Dillon midway through the 30-lap event.
"We had a slow start to the day, but we got better as the day went on and the track got better for us," Stewart said. "Austin (Dillon) had some trouble with his brother (Ty Dillon) and someone else and got choked down and we got a big run. The inside didn't look so good and I thought the outside looked good, but then it didn't look good at all. I thought I was going to go down the tunnel, out the parking lot and downtown. It was a little bit sketchy, but we had a fast kart at the end."
Tagliani, who raced as a teammate to Stewart, said an assist from the NASCAR champion helped his kart come alive for the feature. The teammates, along with Andretti, used a grinder and razor blades to prepare their tires for the slick surface of the arena.
"I don't remember the last time I worked so hard on my kart from the beginning of the day," Tagliani said. "It was nice to share the track with the NASCAR guys and all the guys from INDYCAR too. I really enjoyed the day and it was a fun event. It was fun to race with Tony (Stewart). I've never run on the same track with him and today we were teammates with Birel. It was a battle after every session about who would own the grinder. He didn't want to give it up so he ended up grinding everyone's tires."
Tagliani led Team INDYCAR with his runner-up finish, while 2011 Firestone Indy Lights champion Josef Newgarden finished fourth. Jay Howard finished sixth, while Tomas Scheckter, Ryan Hunter-Reay and Ed Carpenter retired from the race.
"It was a lot of fun trying to sort out what was quick," Newgarden said. "I thought it was great to run with all the other guys and have the great support from the fans. Hopefully, we can do it again next year."
Those who intentionally live off another's labor will always want more free stuff!