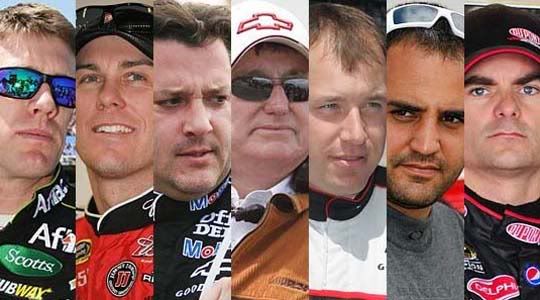 Fight Club: Who are NASCAR's best brawlers?
.Daily Newsletter » NASCAR headlines delivered to your inbox every day Fight Club: Who are NASCAR's best brawlers?
By Jeff OwensSaturday, June 11, 2011
Who are NASCAR's best brawlers? Carl Edwards, Kevin Harvick, Tony Stewart, Richard Childress, Ryan Newman, Juan Pablo Montoya, and Jeff Gordon.
Juan Pablo Montoya, Ryan Newman neither confirm nor deny rumored scuffle in NASCAR hauler
Kevin Harvick attempts to punch Kyle Busch as Busch hits Harvick's car during wild postrace confrontation
Richard Childress fined $150,000, placed on probation for punching Kyle Busch at KansasCOMMENTARY
NASCAR drivers – and, most recently, team owners – have been known to throw a punch or two.
Since Cale Yarborough duked it out with the Allison brothers during the 1979 Daytona 500, fighting has been as much a part of the sport as fender-rubbing and bump-drafting.
So who are NASCAR's best brawlers? Here's a look:
Carl Edwards
– NASCAR's resident tough guy, Edwards is the one guy in the garage you don't want to mess with. Built like an NFL linebacker, he's a workout freak and a physical specimen, recently testing as high as world-class athletes on strength and conditioning tests. He's known as one of NASCAR's nicest drivers, but you don't want to get on his bad side. Brad Keselowski found that out when Edwards retaliated against him and sent his car flying through the air last year at Atlanta. Kevin Harvick found out when Edwards put him in a chokehold and nearly lifted him off the ground during a scuffle in the garage at Charlotte. There's likely no one in the NASCAR garage who wants a piece of this heavyweight.
Tony Stewart
– In the heavyweight class thanks to a gut that often bulges like a punching bag. Stewart is NASCAR's AJ Foyt, an ornery, surly character that will call out anyone, and usually backs it up. He's scuffled with Robby Gordon and allegedly punched Kurt Busch in the NASCAR hauler. He's brawled with track promoters, shoved photographers, nudged reporters and kicked the living crap out of a tape recorder. If he doesn't like you, he'll let you know. Spews venom like a snake, especially when dealing with pesky reporters, and rivals any athlete in sarcastic trash talking.
Kevin Harvick
– Has the size – and mouth – to spar with NASCAR's heavyweights. He's NASCAR's best trash talker and biggest instigator – a consummate backyard bully who likes to pick a fight and is quick to jump into someone else's tussle. Has feuded with Edwards, Kyle Busch, Greg Biffle, Juan Pablo Montoya and a host of other drivers. His best performance was stomping a dent in the roof of Ricky Rudd's car at Richmond in 2003. A smart fighter, he's been in more skirmishes than any other driver, but has yet to take a swing at anyone without a helmet on or without a crowd around.
Ryan Newman
– They say it's the quiet ones you better watch out for. The stocky Newman has little to say but appears to carry a big stick. He put young Joey Logano in his place last year at Michigan and recently fulfilled a vow to get even with Montoya by allegedly slugging him in the NASCAR hauler. He's backed by the U.S. Army and has a soldier's mentality, but marches to the beat of his own drum.
Richard Childress
– Childress is NASCAR's new Buford Pusser, dishing out his own brand of vigilante justice to any driver who dares to run into one of his race cars. A throwback to the rough-and-tumble '70s, when he drove his own cars, Childress is the latest NASCAR personality to stir up trouble, punching Kyle Busch multiple times in the Kansas Speedway garage last week. The biggest difference between Childress and NASCAR's other pugilists? He's not a driver, but one of NASCAR's most popular and powerful team owners. But as Busch found out last week, the 65-year-old Childress still packs a mean punch.
Jeff Gordon
– One of NASCAR's nicest and most charitable drivers, but don't let that fool you – Gordon has a temper and is the king of NASCAR welterweights. Though he rarely provokes other drivers, Gordon doesn't hesitate to defend himself or get even. He shoved Matt Kenseth on pit road at Bristol a few years ago, allegedly punched Mike Bliss in an airport after a race and had to be physically restrained while trying to throwdown on Jeff Burton at Texas last year. Gordon is NASCAR's posterboy for class and professionalism – but don't cross him.
Juan Pablo Montoya
– Montoya has the look of a welterweight boxer, and has the aggression and temper to match. He came to NASCAR with a reputation for road rage and has lived up to it, using his bumper on numerous drivers. He went helmet to helmet with Harvick a few years ago and has retaliated against Stewart, Newman and several other drivers on the track. His confrontation with Newman a few weeks ago led to an altercation in the NASCAR hauler. Though he didn't stick around to confront Newman after the race, Montoya is a hot-blooded driver who normally doesn't back down from anyone.
Kurt and Kyle Busch
– NASCAR's ultimate punching bags, the Busch brothers have been knocked around more than anyone – literally. Kurt got punched by Jimmy Spencer in 2003 and Kyle got whacked by car owner Richard Childress just last week. Both are fiery drivers with acidic tongues and a tendency to stir up trouble. Kyle threatened to "kill" teammate Denny Hamlin last year and doesn't hesitate to punt any driver who gets in his way. Kurt has the mouth of a sailor and has used it on everyone from his crew to police officers to NASCAR officials. They even had words with each other after Kyle wrecked Kurt in the 2007 all-star race. Though neither likes to fight, they both have a bad habit of getting into them.
Danica Patrick
– She might be a girl, but the feisty Patrick has a temper and a reputation for getting into the face of any driver who tries to rough her up. She once shoved IndyCar star Dan Weldon during a confrontation on pit road and had an infamous cat fight with fellow female driver Milka Duno. Patrick has already called out one NASCAR driver – James Buescher – and has let it be known that she won't be pushed around. Once she makes the leap to NASCAR's top series, she'll be a contender in the welterweight class. And who's gonna hit a girl?
Brad Keselowski
– This tall, lanky driver might not hold up long in a fistfight, but he's cocky, spunky and full of #### and vinegar. He hasn't gotten into a scuffle yet, but he uses his wit and tongue to verbally spar with the best of them. He's aggravated Edwards, Denny Hamlin and others and grabbed the microphone at Bristol last year and called Kyle Busch "an ####," showing that he's not afraid to mix it up. Keselowski's cocksure attitude rubs some the wrong way, so he probably has a fight coming.
Robby Gordon
– When Gordon was running competitively, he had half the garage gunning for him. Why? Because if you didn't move out of his way, he'd move you. He once sparred with Stewart in the garage at Daytona and recently punched little-known driver Kevin Conway in the garage at Las Vegas. Gordon is a back marker with his underfunded team these days, but competitors still know not to mess with him.
Andy Lally – This Grand Am sportscar star has yet to make a name for himself in NASCAR, running his first Sprint Cup season for underfunded TRG Motorsports. But off the track, Lally is not a driver to be trifled with. In his spare time, he competes in Mixed Martial Arts events and uses Brazilian Jiu Jitsu as his main training regiment. Lally might be the one guy in the garage who is a better fighter than stock-car driver.
Those who intentionally live off another's labor will always want more free stuff!