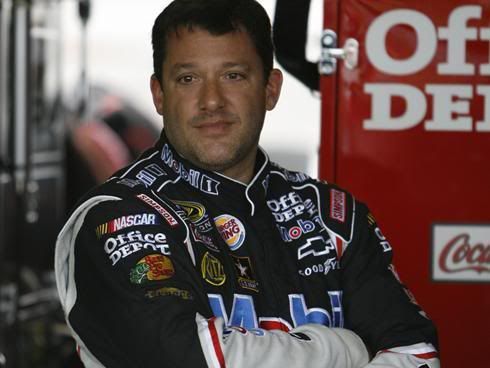 CHARLOTTE — As a track owner who knows drama sells tickets and a team owner who knows compelling storylines appeal to sponsors, Tony Stewart understands the "Boys, have at it" concept.
But as a two-time champion and 13-season veteran of the Sprint Cup Series, he would like some more definition of the policy introduced by NASCAR last season — particularly in the wake of $25,00 fines and probation for Kyle Busch and Kevin Harvick for a postrace altercation on pit road Saturday at Darlington Raceway.
"I'm curious now what the true meaning is,' " Stewart said after a news conference Wednesday afternoon at Levine Children's Hospital, one of four children's hospitals that will be receive proceeds from the HBO pay-per-view telecast of his Prelude to the Dream all-star charity event at Eldora Speedway.
"I think they need to do a better job of explaining to all of us what it means and what's acceptable and not acceptable. I'm all for whatever they want to do, but every time a situation happens like this, we all go, 'well, this is what they told us, and this is what it is.' There are a lot of us curious about what does this really mean. … I'm trying to figure out what the goal of it was; what are they trying to accomplish by saying, 'Have at It?' And with that, what does it mean? If you want us to have at it, where are we limited? What are we supposed to be able to do now that we weren't able to do (before)? I'm not sure we know what that means now.
"If you tell them to have at it, and (then) you get fined for it, then you've basically told them to not do it."
"Boys, have at it" was coined by NASCAR vice president of competition Robin Pemberton during a news conference in January 2010, and it's set the tone for how NASCAR has officiated its races the past 18 months. After admitting they had "overregulated" the competition by punishing drivers for on-track behavior, NASCAR told drivers it was allowing them more latitude in "self-policing," i.e. bumping and banging fenders on the track to send messages without fear of facing repercussions.
NASCAR often has turned a blind eye when drivers have chosen to intentionally wreck each other since, but there have been limits to the frontier justice. Last season, Carl Edwards and Brad Keselowski each were penalized after making contact in the final laps of a Nationwide race in Madison, Ill. (which resulted in Edwards winning after crashing Keselowski on the last turn).
This season, Ryan Newman and Juan Pablo Montoya were reprimanded by NASCAR (but not penalized) after tangling at Richmond. Busch and Harvick became the first Cup drivers to be punished for roughhousing
"If you're Kyle and Kevin right now and having to pay $25,000, you want to know what's going to cost you money," Stewart says. "I think we have a right to know. You want NASCAR to make sure they have the authority. But at the same time, don't lead us the impression that you're turning us loose and all of a sudden start throwing penalties and fines. We understand that's going to happen but give us the guidelines. Be fair to us and let us know this is what's acceptable and not. Then maybe with that knowledge, those guys don't get in that situation Saturday night."
"I've been driving in this series 13 years, and I don't know what's acceptable and what's not. What's the penalty? We know what's right and wrong, but sometimes you sit and weigh the option of is the penalty worth it? So at least let us know what it is, so we have the option of making the decision. I got fined a lot more and was on probation a lot longer for doing a lot less than what happened Saturday night. It's fine for it to change. I don't have a problem with that. I'm fine with the direction NASCAR is going with it. I'd just like to know what's expected out of us."
NASCAR did clarify in the wake of the Darlington race that Busch and Harvick were targeted for what happened after the race and not in the closing laps of the Southern 500, when Busch hooked Harvick into the front straightaway wall.
After the checkered flag, Harvick stopped his Chevrolet in front of Busch's Toyota on pit road and took a wild swing at the driver's side window of Busch's car. Busch then bumped Harvick's car aside and drove to the garage.
A NASCAR spokesman said the sanctioning body took action because the drivers had endangered the safety of those on pit road.
"OK, say, 'Don't do anything on pit road. Pit road is off limits,' " Stewart said. "Where do you handle disputes? On the track? In the motor coach lot? The Kmart parking lot? Are you allowed to do it in the NASCAR hauler? What's acceptable? Give us the guidelines. Everyone's willing to follow the rules. Just tell us what they are and where we're supposed to do this."
The driver-owner of Stewart-Haas Racing said he wasn't complaining about the policy but suggested it might need tweaking, as did
"Trust me, I'm on NASCAR's side," he said. "They have to have the authority to do this. They have to be the guys who set the rules and boundaries, but as this sport has evolved, going and sitting in the trailer isn't enough anymore, because all it does a lot of times is frustrate guys more than ever. I'm not sure that problems haven't been worse after leaving the trailer recently than it has been going into it. I don't know where the accountability is anymore and where everything stands. We at least all need the opportunity to understand what's acceptable (and) what's not. That helps the drivers from getting in those situations.
"You go to short tracks and (a postrace alteration) happens, and you don't normally see the problem with the same two guys the next week. But it sure lingers on with what we do. It's like, 'Is the system working with what we're doing?' Things seem to linger on a lot longer nowadays than it used to in this series."
Stewart said it wasn't a mistake for NASCAR to summon Montoya and Newman (who drives for SHR) because "they've done that for years. But there's been times I've been in there and felt better when I left. There's probably more times than not that I've felt worse about it and been more frustrated (afterward). There's a lot of situations that it's debatable whether you're accomplishing the goal of bringing in two guys to begin with."
If drivers do want to settle their differences after a race, Stewart, who was involved in an altercation at a sprint-car race in Australia in January, seems to favor the old-school approach of letting drivers do so in full view of the crowd — particularly if it's at Eldora, a dirt track he's owned since 2004.
Busch will be among many NASCAR drivers competing in the Prelude, which features Super Late Models. Harvick is skipping the event, but "being a promoter, if he asked, he would have a spot," Stewart said with a laugh. "I'm all for facilitating. If they want to settle it on the frontstretch at Eldora in front of the crowd, I'm all for it. I'd be more than happy to help them do whatever they wanted to do. I'm all for it."
Once considered the "bad boy" in Cup for being embroiled in many feuds with other drivers and the sanctioning body early in his career, Stewart, who turns 40 on May 20, said he laughed Tuesday night when he saw a video montage from the "Boys, have at it" era and realized he wasn't in many of the highlight clips.
"It was kind of odd," he said. "It was 'Wow, I feel I've shorted myself a little bit.' I'm feeling like I need to send NASCAR an invoice because I've gotten penalized a lot more and had to pay a lot more in fines and (spend) more weeks in probation for doing a lot less than what happened the past two weeks. I feel like I'm owed some money back here."
Those who intentionally live off another's labor will always want more free stuff!