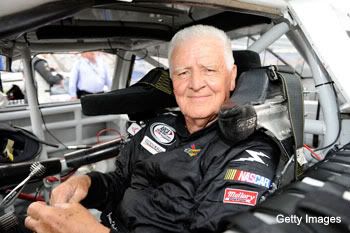 Thu May 05 05:11pm EDT
Make way, young'uns! 76-year-old James Hylton will race at Darlington
By Jay Busbee
This is what you call racing to extremes: in a year which has already seen the youngest-ever Daytona 500 winner in NASCAR history in Trevor Bayne, we're about to see one of the oldest drivers to ever take to the track in 76-year-old James Hylton.
Hylton, a veteran of NASCAR since before almost every current driver was born, will be racing for JD Motorsports in the Nationwide Series race in Darlington on Friday night. He'll set a record as the oldest driver ever to start in the Nationwide series; the previous recordholder was ... Well, Hylton himself, back in 2008.
Hylton isn't the oldest driver to ever run in a major NASCAR series; that honor still belongs to Hershel McGriff, who raced last year in the Trucks series at age 81. But he's still plenty broken-in, and obviously thinks he's good enough to run alongside the likes of Kyle Busch, Carl Edwards and Brad Keselowski. (Show some respect, gentlemen. Please.)
As a matter of perspective, when NASCAR was created, Hylton wasn't much younger than Bayne is now. Hylton's first race at what is now the Sprint Cup level was the 1964 Old Dominion 400. In addition to NASCAR legends like Ned Jarrett, David Pearson and Richard Petty, that race featured guys with names like Elmo, LeeRoy, Buddy (two of 'em), and the immortal Worth McMillion. Ah, the good ol' days.
Sure, you can make all the race-with-the-blinker-on jokes you want, but bottom line: this is one oldster who'll blow your doors off. We'll be pulling for ya, sir.
Those who intentionally live off another's labor will always want more free stuff!