TSR HOSTS CHEVY STAFF
Written by Bill Klingbeil
TONY STEWART RACING WELCOMES CHEVY EXECS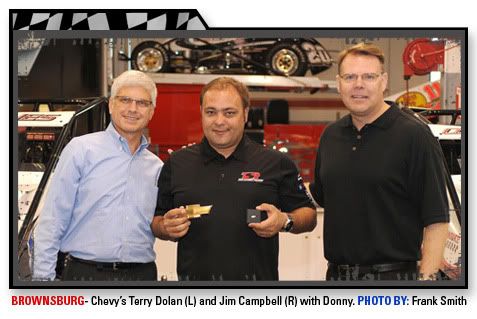 BROWNSBURG, IN - A team is made up of many elements and having great partners is extremely important. Four-time World of Outlaws champion Donny Schatz and the rest of the Tony Stewart Racing (TSR) personnel hosted three key individuals from Chevrolet at the TSR shop in Brownsburg, Ind. on Thursday.
"We do a lot of things in racing, but it's not often we can sit down and talk with the people that make it possible for us to race," admitted Schatz. "2011 has been a really good year for that. Whether it's been talking with people from STP and Armor All, J.D. Byrider or Bass Pro Shops or having lunch with people from Chevy, like we did on Thursday, you just feel good to be working with such great companies. It gives all of us a lot motivation to win races and get them positive exposure."
On Thursday, Jim Campbell (GM Chevrolet Brand), Terry Dolan (Manager, Chevy Racing) and Eleni Mareskas (Chevy Sales & Marketing Team) toured the TSR shop, ate lunch with all the drivers, crew members and shop employees. Mr. Campbell presented each attendee with a Chevy lapel pin.
"It was a nice chance to talk with Mr. Campbell and show him around a little bit," continued Schatz. "I've had the chance to talk with Mr. Dolan at the track plenty of times, but at the track I'm a little more focused on racing. Chevy is a terrific brand and we're thrilled to be associated with everyone there."
Schatz has been fortunate during his World of Outlaws career to work with some incredible companies. Whether it was Bellerud Transport and Blue Beacon Truck Washes when he started racing with the World of Outlaws in 1997 or the Petro Stopping Center and Featherlite Coaches sponsorships in the late 1990's or the partnership he enjoyed with ParkerStore for more than 12 seasons, they all have been vital.
In the fall of 2007, he officially joined Tony Stewart Racing and was introduced with the Armor All brand in a Charlotte news conference. Armor All, STP, Chevrolet, Bass Pro Shops and J.D. Byrider have been partners on the No. 15, which Schatz has driven to a pair of WoO titles, two Knoxville Nationals crowns and a Kings Royal title. The Fargo, N.D., racer is hoping to win a few more in 2011.
Those who intentionally live off another's labor will always want more free stuff!