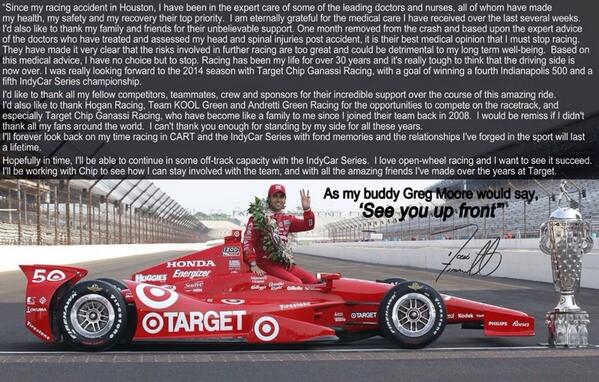 Dario Franchitti retires from IndyCar after accident
Sports staff, USA TODAY Sports 4:50 p.m. EST November 14, 2013
Four-time champion announces he cannot continue racing after injuries suffered in Houston crash
STORY HIGHLIGHTS
Franchitti, 40, was the face of IndyCar
He suffered a broken back, right ankle and concussion in a crash at the Houston Grand Prix
Franchitti won four IndyCar championships and three Indy 500s in a career that started in 1997
Four-time IndyCar champion Dario Franchitti announced Thursday he will no longer be able to compete in auto racing because of injuries suffered in an Oct. 6 crash.
The Chip Ganassi Racing driver, who suffered a broken back, right ankle and concussion in a crash at the Houston Grand Prix that sent his car airborne into a catchfence and back onto the temporary street circuit, also won three Indianapolis 500s in a career that started in 1997.
Franchitti, 40, and his team were looking forward to his return in 2014, when Ganassi is welcoming 2013 Indianapolis 500 winner Tony Kanaan to the stable that already includes three-time and reigning IndyCar champion Scott Dixon.
The Scotsman ends his career tied for eighth on the all-time list with 31 career wins and 33 pole positions.
BY THE NUMBERS: Dario Franchitti's career statistics
Franchitti said in a statement:
"Since my racing accident in Houston, I have been in the expert care of some of the leading doctors and nurses, all of whom have made my health, my safety and my recovery their top priority. I am eternally grateful for the medical care I have received over the last several weeks. I'd also like to thank my family and friends for their unbelievable support.
"One month removed from the crash and based upon the expert advice of the doctors who have treated and assessed my head and spinal injuries post accident, it is their best medical opinion that I must stop racing. They have made it very clear that the risks involved in further racing are too great and could be detrimental to my long term well-being. Based on this medical advice, I have no choice but to stop.
Sorry to hear.......but Indy cars don't have the safety and security that Nascar cars have because of the open cockpit. Head and spinal injuries are very serious........