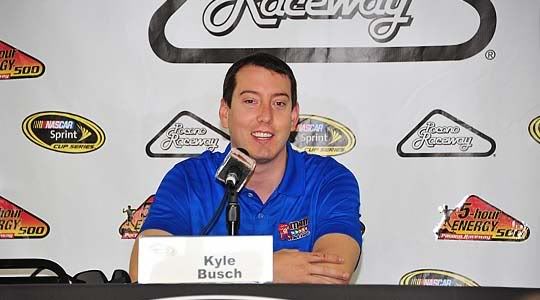 Kyle Busch says he never knew of Richard Childress threat, bump of Joey Coulter was good-natured
By Kenny Bruce
Friday, June 10, 2011
Kyle Busch said he was never warned by Richard Childress about damaging RCR equipment.
LONG POND, Pa. – Kyle Busch said he has never been warned by team owner Richard Childress about contact with drivers from Richard Childress Racing, and that his contact with RCR driver Joey Coulter following last week's Camping World Truck Series race was nothing more than a congratulatory bump following their battle for fifth place.
"I guess [the bump] is what tipped him over the edge," Busch said Friday at Pocono Raceway when asked about the altercation between himself and Childress.
The veteran car owner was fined $150,0000 and placed on probation through Dec. 31 for punching Busch multiple times after the race. After reviewing the incident, NASCAR officials did not punish Busch for his actions that occurred on the cool-down lap after the race.
"I don't recall any time, face-to-face conversation – Richard didn't tell me 'if you touch another one of my cars, I'm going to come find you,'" said Busch, who is on probation from a pit-road incident that damaged RCR driver Kevin Harvick's car minutes following a crash that damaged the car of RCR's Clint Bowyer. "I don't know that that was ever said in the media, but it was never relayed to me.
"If he came to me and was so upset about it, I would have offered to fix it. I'm an owner in this sport and I know there's going to be torn up equipment sometimes."
Busch said that the incident came on the heels of a tight battle between himself and Coulter, and that "if I didn't roll out of the throttle, we both would have crashed off of Turn 4.
"But the kid knew what he was supposed to do on the last lap there. We raced each other for 18 laps," Busch said. "I was having fun with him trying to keep him back, and I thought I had it done and he got on inside on the backstretch there and pulled a slide job through [turns] 3 and 4 and kind of squeezed me up there.
"I had two options, lift and let him beat me – which was fine; we're racing for fifth in the Truck Series [and] it wasn't for a win – or crash the both of us. It wasn't necessary for any of that."
Childress said Friday that he accepted the fine from NASCAR but that he wasn't pleased that the sanctioning body did nothing to penalize Busch for damaging his team's equipment.
Busch said he has gotten a lot of support from the garage area, including "team members from the RCR camp that are my friends."
And as far as he can tell, he said, he has the respect of most of those against whom he competes each week.
"Certainly, it makes your day a l little bit easier, makes your job a little bit easier [to have that respect]," Busch said. "I've been able to have good conversations and talk to people outside the race car, at driver intros, stuff like that.
"Whether it's the case of them not being true to my face, I don't know. I can't read that. I'm not in people's minds. If you're mad at me, you'll have to tell me."
Those who intentionally live off another's labor will always want more free stuff!