Newman: Take Care of Montoya Yourself
Posted on May 3, 2011 by admin
The next time Tony Gibson whispers in Ryan Newman's ear, he may tell him to put up his dukes and square off with Juan Pablo Montoya. Photo by Rusty Jarrett/Getty Images for NASCAR
Ryan Newman and Juan Pablo Montoya may need trunks and gloves to settle their differences if NASCAR refuses to step in, Newman's crew chief said Tuesday night.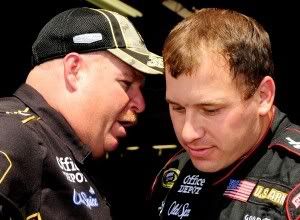 Tony Gibson, appearing on SPEED's NASCAR RaceHub, said Newman chose not to seek out justice against Montoya after Saturday's Richmond race because he thought NASCAR would dole out discipline.
Newman, who said he was going to take care of things with Montoya after the race, instead made a voluntary trip to the NASCAR hauler to find out what NASCAR was going to do about Montoya dumping Newman.
"Ryan just wanted to know where we stood, 'cause we were under the assumption that NASCAR was going to handle it," Gibson said. "[We didn't] retaliate, we kept our cool and we did the right things, and we just assumed that NASCAR was going to handle it after the race, and I think we got somewhat of an answer we were looking for."
Apparently, the answer was something to the effect of handle it yourself.
"It's pretty much game on, I guess, and boys have at it," Gibson said. "So it makes me a little nervous…. If that's the rule, it'll probably get pretty ugly I'd say across the field. So, it should be interesting."
Gibson is frustrated for the team members who have to rebuild cars after such fracases, also noting that the poor finishes from wrecks "takes money out of their pocket" via the loss of bonus money.
Many fans were expecting fisticuffs after the race, and Gibson would be happy if Newman and Montoya went ahead and got things settled by setting up a ring at the track.
"Just give them an hour, whether you do it on pay-per-view and everybody who's there gets to see it for free, put them in a ring, let them go at it and see," Gibson said. "'Cause that way it don't hurt the cars, the guys don't suffer, and if they really want to fight, and they're really mad, they'll go at it."
This entry was posted in Uncategorized. Bookmark the permalink.
← Honoring Frances means inducting Parks, Robertson to HallOne Response to NASCAR to Newman: Take Care of Montoya Yourself
Staci says:
May 4, 2011 at 4:33 am
I'd pay money to see Newman and Montoya go a round. There would be only one round with one hit – Newman knocking Montoya's #### out. That is is if Montoya doesn't run away. I think Montoya could probably beat Newman in a foot race. That's probably the only race he could win. How many times has Montoya been in the chase verses Newman? How many races has Montoya won verses Newman?
Those who intentionally live off another's labor will always want more free stuff!