Ryan Newman excited about a rare fast start at Stewart-Haas
By Bob Pockrass
Tuesday, March 15, 2011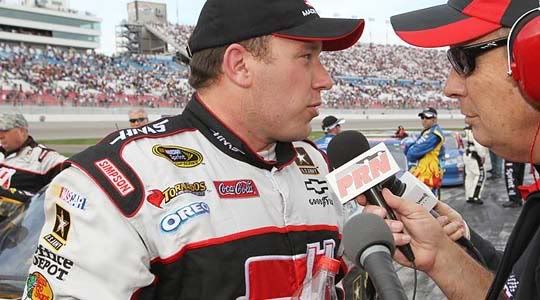 Ryan Newman could be on track to return to the Chase after a rare fast start.
Ryan Newman and his Stewart-Haas Racing team know about having to rally from deep in the points standings to make a run at the Chase For The Sprint Cup.
They were successful the first time, rallying from 33rd in the standings after three races in 2009 to earn a spot in the Chase. They couldn't complete the rally in 2010, coming up short after falling to 32nd in the standings early in the season.
The good news for Newman? He doesn't have to worry about rallying so far in 2011.
After getting involved in a late accident to finish 22nd in the Daytona 500, Newman has posted back-to-back fifth-place finishes to sit fifth in the standings.
"I've learned this since we struggled in part of '04 and '05 [at Penske], you can have the fastest race cars in the world but if you don't have the confidence as a driver and a person to do your job, that confidence is way more powerful than technology and speed and fast pit spots," Newman said in an interview Monday afternoon prior to an appearance at Fort Bragg for the U.S. Army.
"That confidence can be crushed in very little time, but with the way we ended last year and started this year, we have a much better shot of making the Chase three races in than the last two years."
It has been nearly a year since Newman has finished in the top five in consecutive races, the last coming when he finished fourth at Martinsville and then won at Phoenix in the sixth and seventh races of last season.
Newman needed those finishes just to get to 16th in points. Now he goes into March in a much more solid position while teammate Tony Stewart leads the points standings thanks in part to a second-place finish in a race he should have won at Las Vegas.
And Newman goes into the March-April stretch with the knowledge that he was strong at Daytona – he led the most laps – and had to rebound from an ill-handling car and a bad pit stop at Las Vegas.
"It's just been a good start for us really," Newman said. "It's something we haven't had at Stewart-Haas on our side. The 14 [of Stewart] has had some mediocre starts but this has been our strongest start as an organization.
"We had a car just about as good as his [at Vegas]. We were loose all day and never had the track position. Lap-time-wise, once we got our car right, we were pretty darn competitive. Of the 267 laps, we spent 200 of them loose. … We came back from being loose all day and we came from being the third car a lap down at one point to finishing fifth, passing a bunch of cars."
And does any of that matter at Bristol, site of this week's race?
"Yes and no," Newman said. "Bristol is an animal in itself."
The question is whether Newman is a different driver than late last year when he was running strong with nine finishes of 11th or better in the final 13 races.
"We're better from where we left off [last year]," Newman said. "We were better at Daytona than we were a good bit at Talladega. We were just a tick worse at Phoenix competitive-wise, but we still got a top-five finish.
"We had some damage on the car [at Phoenix]. At Vegas, we had the biggest improvement, which we needed the most, which was the intermediates. I think we were 18th last year and we came home fifth. It's not like that one was handed to us."
Newman said his pit crew – the bulk of which he had for all of last year – "went from a 20th-place pit crew to a top-10 pit crew and that made a huge difference for me."
With everything falling into place three races into the season, it's now up to his team to keep it going.
If Newman and Stewart can keep it going, it could make the third year for Stewart-Haas Racing its best season yet.
"On our side, the 39 team, we have done a better job of communicating and being quicker to communicate to get done what we needed to do," Newman said. "We there for a while struggled from practice to the race. We've gotten better at that. For a while, we struggled with adjustments throughout the race and we've gotten better at that. Our pit crew is far and above better.
"Those things have definitely made big changes for us as a team."