All things Tony
lol, not so cute but he sure did grow up nice!
"The individual has always had to struggle to keep from being overwhelmed by the tribe" - Friedrich Nietzsche
Rochelle wrote:lol, not so cute but he sure did grow up nice!
I agree! He got better looking with age!
My favorite drivers Dale Earnhardt Jr. and Tony Stewart
Never Never Never Give Up! -Winston Churchill
GO PACKERS!!!
That trophy is awesome. Looks almost like a superhero race driver.

I tried to make a picture montage back in '06 set to John Mellencamp's "Crumblin' Down," eventually had to give up on it but what little bit I got done, I had that picture for the line where he says "I'm the same ol' trouble you've been havin' for years." I did a lot of signature banners for folks around that time as well and I dunno if it was that one or another picture from that era but I remember I did one of him in his career's infancy and tagged it with "Kickin' butt since '78."
"This one's for every one of those fans in the stands that pull for me every week and take all the bull**** from everybody else." - Tony Stewart, July 29, 2007
looks like moe howard, hahaha
I miss you Frehley........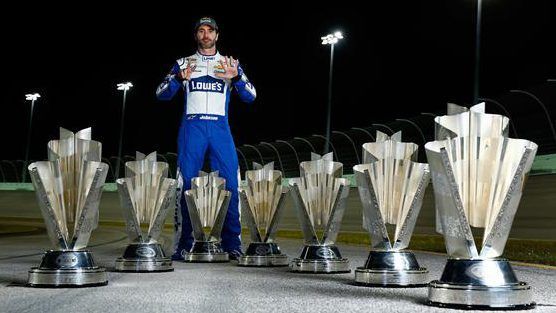 Great pic! Tony must have been a real Beatles fan from the looks of that haircut.
Celebrate the Dale Earnhardt Jr. Farewell Tour - 2016
Say what you like but he had the "I win" grin way back then.......LOVE this photo!!
#14 in '14
TONY AND ZIPPY's FIRST WIN IN NASCAR.....
TONY AND HIS DAD....In his DQ Car!!
Annalee, thanks for posting Tony's first win. Hadn't seen that before and can't quite remember if I saw that race. That was just about the time I decided to pick a driver....and of course, you know who I picked.
"This is my house" Tony at the Glen
Tonys involvement with Mobil One.....started in his childhood when Tony would ride with his grandfather to deliver the oil......
30 years later he's their # one Spokesperson .......I think they call that Six degrees of separation......who would have known..... DESTINY......
Did you know Tony Stewart's grandfather, Gaylord Marshall, was a deliveryman for Mobil? Mr. Marshall interrupted his tenure with Mobil by serving as an artilleryman in The U.S. Army where he fought in the Battle of the Bulge. Stewart spent summer and winter vacations hanging with his grandfather delivering heating oil to homes in and around Lafayette, Ind.
---
Who is online
Users browsing this forum: No registered users and 4 guests