NationalSportsMotorsports...Tony Stewart charms man and beast during stop in Oakland
March 24th2011 10:16 PM ET .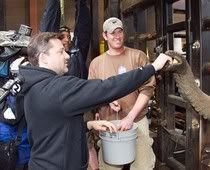 Jerry Wilson Motorsports Examiner.W.C Fields once commented that in show business one should never work with dogs or children. While the world of NASCAR occasionally veers into show businessfortunately Fields' truism isn't applicable in stock car racing. Were it the caseDavid Reutimann would be without a sponsor and Trevor Bayne would be sitting in the stands rather than behind the wheel of the #21 Motorcraft Ford.
It wasn't dogsbut other animals and children that were the backdrop for Tony Stewart's visit today to the Oakland Zoo. It was a promotional visit for the Toyota/Save Mart 350 at Infineon Raceway this Juneand a fair amount of discussion was devoted to the race as Stewart detailed both the difficulties and enjoyment offered by running the road course. Howeverin a relaxed atmosphere and in front of a small but enthusiastic contingent of fansStewart's playful side was the item most prominently on display.
Stewart entered the room joking that the splotch of mud on his sweatshirt wasn't due to his having gone dirt track racingbut rather came from being smacked by an elephant's trunk a few minutes earlier where he had assisted Oakland Zoo Elephant Manager Jeff Kinzley in tending to Osh the elephant. There was a bit of the child's wondering wide-eyed stare in Stewart's eyes as he talking about being that close to the 11000- pound animal.
The look in his eyes turned a bit more toward alarm as a trio of reptiles brought his way concluded with a quite large boa constrictor. Before the snake made its appearanceStewart had the room rolling with laughter when he chided those in attendance for saying aww over a California tortoise like it was Bambi. Howeverno harm was done to either the animals or the driverand it was on to questions and answers.
A query about his strong beginning to the seasonwith he and teammate Ryan Newman presently tied for third in the points heading into this weekend's Auto Club 400 at Auto Club Speedway in southern Californiabrought a cautionary reply. "It's too early to say we're off to a hot start" Stewart commented.
When asked whether he was tired of Jimmie Johnsonwinner of the past five Sprint Cup championshipsStewart replied"Not at all. What people need to understand is what he's done is a huge feat." He added that Johnson was the nicest guy on the circuitinvariably the first to text him congratulations following a win. That duly notedStewart concluded the thought with a smile as he said"I'm excited that I still have the opportunity to be the other side of the bookends. I was the last driver to win the championship before Jimmie started his run. I'd like to be the first to win it after his run."
The question of whether he would be interested in expanding Stewart-Haas to include an IndyCar team when Chevrolet enters the league as a manufacturer next year was met with a reluctant no. "I don't have time to drive or own an Indy car" stated Stewart.
The session then turned from formal questioning to those from the kids in attendance. First came one wondering how many races he's won altogetherto which he replied that he had no idea. When asked what it's like on the racetrack Stewart replied"It depend on who you're around! Sometimes it's like being with that elephant. You have no idea what they're going to do or where they're going to go. With other drivers you're very comfortable when they're around. You know what they're going to do. You can't do that unless you have a lot of respect for each other."
NextStewart was asked if anyone has ever teased him on the track. "They've tried! It normally doesn't work out too well for them."
The final question was what kind of animal Stewart thought he was like on the track. He smiled as he replied"Probably a combination. Sometimes I'm really aggressivelike a tiger. Other times I'm like that tortoise and I'd like to hide. And there are other times when I'm like that snake and I'd like to choke someone!"
Although it had been stressed repeatedly before the session that there would be no time for autographsStewart spent the next several minutes signing awaystarting with the kids in attendance. He spoke to each one as they came forwardjoking with them and answering their questions. Stewart then made his exitleaving behind a satisfied group of fans and the impression that he was equally satisfied with the event.
Those who intentionally live off another's labor will always want more free stuff!