Thu Feb 07, 2013 9:28 am
i know its kinda late, but on speed right now is that show unique whips where they are revamping tony's herst. it came on at 8am est.
Thu Feb 07, 2013 11:59 am
Thanks, but I'm just getting on.......Soooooo I missed it. But that's OK, I've seen it before, I think I had recorded it. But I don't know if I even still have the VCR tape on it. I did seen it on the highway after he picked it up as he was driving it back home after he purchased it from Cincinnati, Ohio. I didn't go, but a few year ago at Eldora, there was a car show going on & he had it brought down there for people to see it.
Fri Feb 08, 2013 9:35 am
they defiantly did a great job in fixing it up.....
Fri Feb 08, 2013 2:33 pm
Knowing our Tony... you sure there was only one caddy there?
hee hee hee - just messin around....
Fri Feb 08, 2013 2:37 pm
Here' s a link to a 2010 story that talks about the 2006 episode - and gives details of Tony's caddy - as well as pic link at bottom of the story
http://connectingdirectors.com/articles/1272-tony-stewart-s-1984-cadillac-hearse-smoke-deville-pictures
Fri Feb 08, 2013 3:02 pm
Tony turning the hearse over - before pic
After re-worked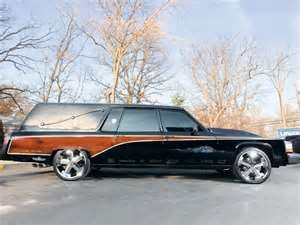 The little white "puff" behind the passenger wheel is Tony's trademark "SMOKE"
Fri Feb 08, 2013 3:55 pm
i will wait til 2014, to view a link from 2010 about a episode from 2006
Mon Feb 11, 2013 12:23 pm
I saw his hearse at the Auto Fair in Charlotte several years ago. Actually, that's the only reason I went.
Mon Feb 11, 2013 10:09 pm
I wonder if he ever takes time and drives it, he is so busy all the time.........
Tue Feb 12, 2013 11:15 pm
best part is it got a 572 big block chevy under the hood.
Wed Feb 13, 2013 12:59 am
were you able to grab any pics of the engine?
Wed Feb 13, 2013 8:13 pm
No, the hood was closed when I was there.

I always wondered if Tony drives it around on Halloween night. I'd LOVE him to stop at my house!
Never happen though............
Fri Feb 15, 2013 10:18 pm
couldn't find any pics but remember it from the show.