Stewart Aiming For Jackpot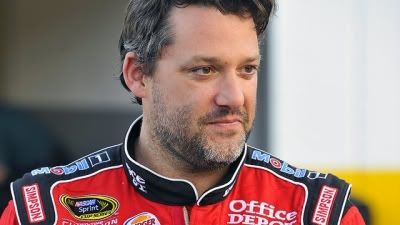 Las Vegas Motor Speedway is the only NASCAR Sprint Cup track where Tony Stewart hasn't won...
Tom Jensen | Posted March 02, 2011 Charlotte, NC
Tony Stewart is a two-time Sprint Cup champion. (Photo: LAT Photographic)
Las Vegas is a town that breaks hearts and empties wallets, 24 hours a day, seven days a week, 365 days a year. It is not a place for amateurs. That much is for certain.
Yet, you'd think by now a driver as talented as Tony Stewart would have easily mastered Sin City, or at least the race track at the edge of it.
Not so.
By his own admission, Stewart, the two-time NASCAR Sprint Cup champion and former IZOD IndyCar Series champ, has not been able to find Victory Lane at the fast 1.5-mile Las Vegas Motor Speedway. In 12 career Sprint Cup starts, the best Stewart ever finished at LVMS was second in 2000. He hasn't had a top-five here since 2004, when he finished third.
For some reason, this is a tough track for Stewart, the only NASCAR track he hasn't won on.
Stewart said there was no magic to the track or getting around it. Nor has he found any secret.
"I wish I knew because I still have not won there in the Cup Series," said Stewart. "I have not won anything there, except for a USAC race at the Bullring and a Sprint Car race at the Dirt Track. But you know, there's really no key to it. It's just like anywhere else you go. You just have to have a well-balanced car. It seems like track position is really, really key there, but as long as you can get your car driving well and stay ahead of it, it seems like as the day changes, or the longer the day goes, the more the track changes and the more you have to stay up with it."
Stewart, who is third in points behind Kyle and Kurt Busch after two races, said he's had good cars at Las Vegas before, but not good enough to win.
"We've had cars that have been good three quarters of the day, but we'd lose the handle on it the last quarter," he said. "You just can't have any mistakes there because you cannot afford to lose the track position, and you have to be able to stay up with the changing track conditions as the day goes on."
Regardless of his Sprint Cup car runs this weekend — good, bad or indifferent — Stewart does get to indulge himself in a bit of a treat: The World of Outlaws team he owns will race at the LVMS Dirt Track Wednesday and Thursday.
"Oh, yeah. It's really a cool weekend because we get to watch my open-wheel teams run two days in a row, and then I get to play the rest of the weekend," he said. "So I'm excited about that. That's what makes going to Las Vegas so much fun is that we do get to see our other programs running."
Those who intentionally live off another's labor will always want more free stuff!