All things Tony
I hope so! This is Tony's fourteenth start in the 500 and he is driving #14. I think that is a good sign too!
Go Tony........!!!!!
How Daytona goes for all the drivers will depend on lots of luck and staying out of all the crashes we know are coming.
You got that right. Makes the 3 weekly picks real difficult. Who here picked Trevor to win last year?
I normally don't care about qualifying at Daytona, especially these last 2 years. This year though, I hope SHR qualifies up to the front (with some level headed dance partners) so they stay away from the early big wreck. We all know there are no guarantees for the late big wreck(s).
Luckily, only one plate race with this style of racing is during, or near the Chase.
Do something with your life and go get me a beer.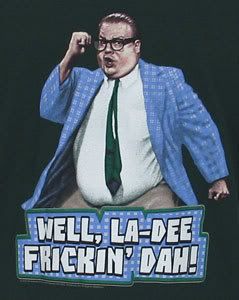 jamo14 wrote:Luckily, only one plate race with this style of racing is during, or near the Chase.
Amen brother
I love this race no matter what - it's like Spring Training.... the sport has once again resumed... your long wait is over.
Smoke 'em if ya got 'em!

Sh*t happens... but don't worry, it usually happens to me.
Racing has returned and once again all is right!!!!


tg
the nice things about race cars is some days they're awesome and some days you can't find your ####- Donny Schatz
Can't wait for the Duals tomorow. Then it will REALLY feel like the season has started.
I started my weekly pick the same as I finished last season; I picked Tony for all 3 spots. What can I say, year #2 as a fan of his and I think I'm stuck in a rut, lol. I won't be able to watch the race as I've got to work this year.
2012 is going to be a GREAT NASCAR Season...
Stewart/Haas Racing Team is Stronger and Faster then they ever been before....
2012 can be "Smokes" 4th NASCAR Championship
I would love nothing more to see Tony win the 500 this year. The 14 car, in his 14th try? Who knows. Who ever wins the 500 it is their destiny to win it.
Cup: 14, 1, 29, 88, 99, 11, 17, 39, 15, 5, 2, 16
NW: 7, 31, 3, 11, 60, 88, 12
Trucks: 9, 88, 3, 7, 17, 31
IRL: 10, 11, 12, 26, 3, 38, 27
RIP Dan Wheldon
"Fight for Four"- Annalee
You got to have a big gigantic drum kit.
14 for 14th try--ummmm
Which car is Tony gonna be driving?
---
Who is online
Users browsing this forum: No registered users and 7 guests