Great article....
Tony Stewart: Winning Indy 500 pole 'something I'll never forget'
ROSSBURG — The drive from Tony Stewart's hometown of Columbus, Ind., to the Indianapolis Motor Speedway is a 50-minute drive up Interstate 65.
Or a 12-minute drive if done in the Lola/Menard V6 Stewart drove to win the pole in the 1996 Indianapolis 500.
As the 100th running of the Indianapolis 500 approaches Sunday, Stewart recalled his favorite Indy 500 memory during a recent visit to his other favorite track – Eldora Speedway, the legendary dirt track he owns in Darke County.
"The favorite moment is when I qualified for my first 500 in 1996," said Stewart, who won the pole with a speed of 233.1 mph in his rookie run. "What made it more exciting was hearing (announcer Tom) Carnegie calling it. You can't hear that in the car, but when I saw the video of him calling those four laps? Holy crap. … That 10-mile run is something I'll never forget."
Stewart raced in five Indy 500s from 1996-2001. He led in four of them and finished a career-best fifth in 1997.
You won't find him in an IndyCar for the historic running of the Indy 500. And after this season, he'll add a NASCAR Sprint Cup car to the list of rides he won't be running anymore.
Stewart missed the first eight races recovering from a back injury. He's run the last four and sits 34th in points entering this weekend's Coca-Cola 600 at Charlotte Motor Speedway.
Even if he fails to qualify for the Sprint Cup championship, Stewart said he won't change his mind about his retirement after this season.
"Nope. Not even close. There's not 1/10th of 1 percent that tells me that's what I'm going to do," Stewart said. "I'm happy with how I'm doing it. The real reason we did this is for our fans. Realistically, I was ready to retire last year. The only reason I'm doing it this year is for our fans. We made the decision so late I didn't want people who didn't have the chance to travel the rest of
the year not be able to see us race again. When the year is over this year, it's over."
If Stewart ever races in NASCAR after the 2016 season, it could likely be the Camping World Truck Series. Eldora hosts the only dirt race among NASCAR's three national touring series (Trucks, Xfinity Series, Sprint Cup). It again roars into Eldora on July 20.
"I've sat there and said, yes absolutely," Stewart said of competing in the event. "Then I sit there and think about all I do when I run the Truck race here. It's just not possible really. Could I do it?
Yes. Would I feel comfortable doing it? Probably not. I'm so worried about everything coming off without a hitch I don't know if I'd be able to concentrate driving a Truck."
Other Sprint Cup drivers may kick up some dirt in the event eventually, but none have officially committed. A handful of Sprint Cup drivers have experience turning laps at Eldora — albeit in late models — when the Prelude to the Dream charity event had its run.
"(The Sprint Cup drivers) all like watching it for sure. I would have thought by now we would have
seen more Cup guys do it," Stewart said. "I've been surprised by that. (The 400 at the Brickyard) is a big week at Indy as well … and that takes them out of the opportunity to do it."
Stewart, meanwhile, is focused on working with new crew chief Michael Bugarewicz as they attempt to move the No. 14 Stewart-Haas Racing Chevrolet up the standings. Stewart said he's feeling no ill affects from his offseason accident as he heads into the summer months, typically the time Smoke heats up.
"I felt comfortable in the car, it's just getting acclimated to a new crew chief," Stewart said. "We've really only had two races together. Just feeling each other out."
Employees at his race shop have had some fun with Stewart's off-road mishap. Stewart said guys in the shop put up a picture of a skeleton and "are putting their initials by what they think I'll break next."
There's one thing Stewart makes no bones about – his passion for Eldora. When his Sprint Cup driving duties are over he plans to spend more time at the track even as a spectator.
"(I get) the same feeling as the first time I came here as a driver," Stewart said. "I don't think that ever changes. That's why we bought this place. There aren't many places you have that feeling when you drive in. It's like I've always told people: It's like that final scene of Field of Dreams. You're driving through cornfields and poof, there it is. It's hard not to get excited."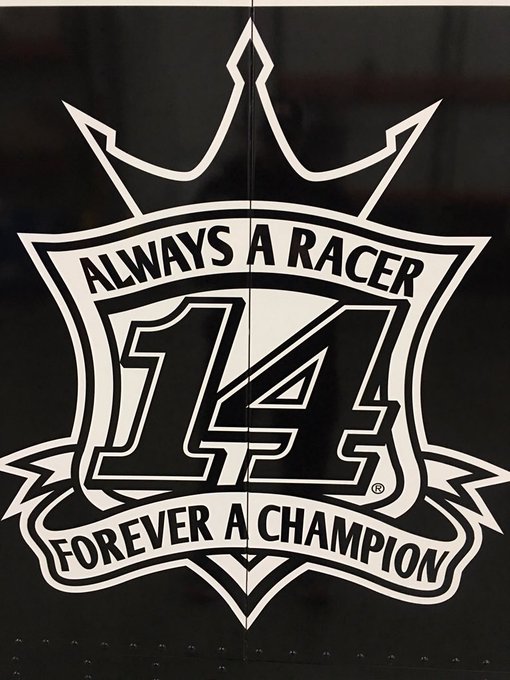 "Fight for four"..Me