Wed Jul 03, 2013 9:42 pm
"Guess which hand!"
Attachments

What's your caption?
GuessWhichHand2013.jpg (87.1 KiB) Viewed 4188 times
Tue Sep 03, 2013 12:59 pm
Donny Schatz Dances to Grays Harbor Victory Sept 2, 2013


Tue Sep 03, 2013 2:59 pm
Heres Tony In his Cast!!
Attachments

BTQmZZaCYAArJIu.jpg (36.11 KiB) Viewed 4004 times
Wed Sep 04, 2013 1:08 pm
thanks for posting that Donny video. i laughed so hard when i saw it. it was good to see tony out and about. i know he is proud of Donny's efforts. i know i am


tg

love my Smoke and Schatz
Wed Sep 04, 2013 1:16 pm
tonysgal wrote:love my Smoke and Schatz
You were the one I was thinking of when I posted it, TG.
Wed Sep 04, 2013 6:43 pm
Tony in Tallahassee today at the opening of a new Bass Pro Shop.
Wish I could have made the trip up there.
I could have had him sign my 2011 (championship year) diecast.
Sat Sep 21, 2013 6:47 pm
Tony watching racing on his laptop!
Attachments

BUuI1zZCYAAyqCy.jpg (37.48 KiB) Viewed 3847 times
Sat Sep 21, 2013 11:17 pm
Sun Sep 22, 2013 9:25 am
During the race, I wonder if Tony spends more time near the #14 pit box or the #39 pit box since Ryan is in the Chase? Notice I'm disregarding Princess Sparkle Pony.
Sun Sep 22, 2013 11:18 pm
The current picture of Tony in his motorhome this weekend concerns me. He is pale again and is obviously over tired. His physical therapy starts on Monday. If he looks like that on Saturday, what is he going to be like come Monday. I know he's a grown man and can do what he pleases, but I don't think he is taking very good care of himself. It really worries me. I used to work in physical therapy, with this type of injury you need to be well rested, eat a balance diet ( not burger king) and take care of yourself. If Tony wants to be in the car at Daytona, he needs to get with the program and take better care of himself.
Mon Sep 23, 2013 12:59 am
I think he's looked pale, since all this has happened.
Tue Sep 24, 2013 11:14 pm
Riceman61 Doug Rice 2h
Was nice to see smoke out signing autographs @AutoZone_Park cool event pic.twitter.com/EtUaKI7XwX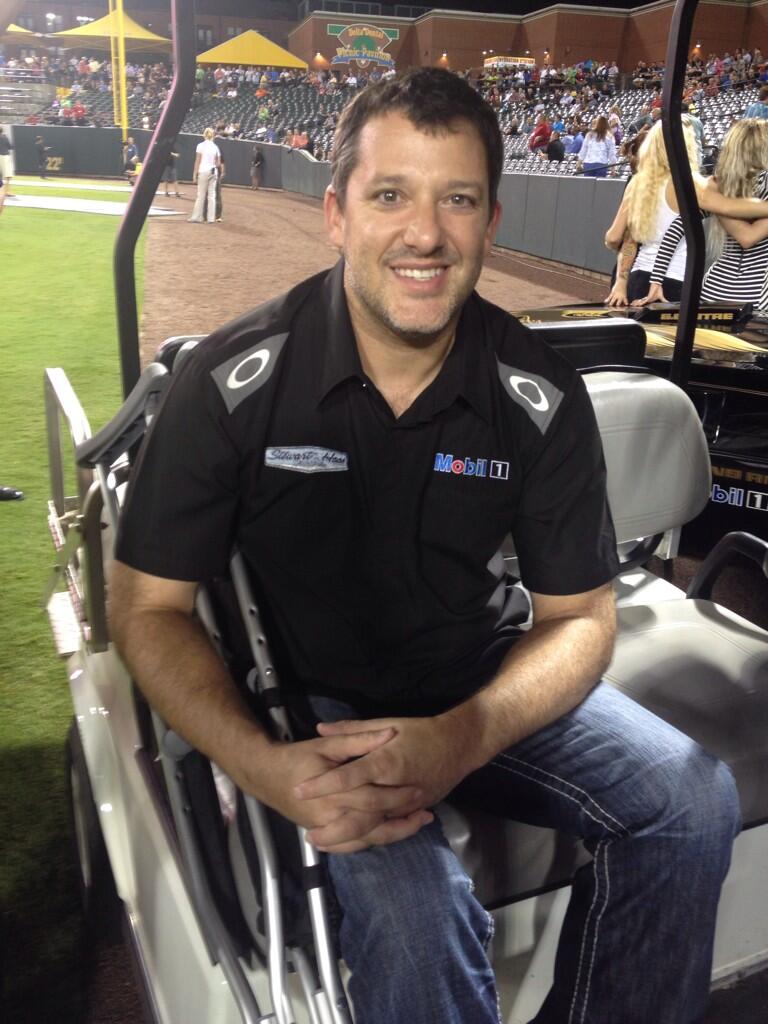 Sun Oct 27, 2013 11:40 am
You Give Me Chills!!
Attachments

BXl_38iIYAAUn_k.jpg (26.48 KiB) Viewed 3378 times
Mon Oct 28, 2013 8:26 am
Don't know about you ladies!?!
Tue Oct 29, 2013 2:46 pm
So Hot!!!
Attachments

BXw9x1PCAAATKPT.jpg (38.03 KiB) Viewed 3340 times