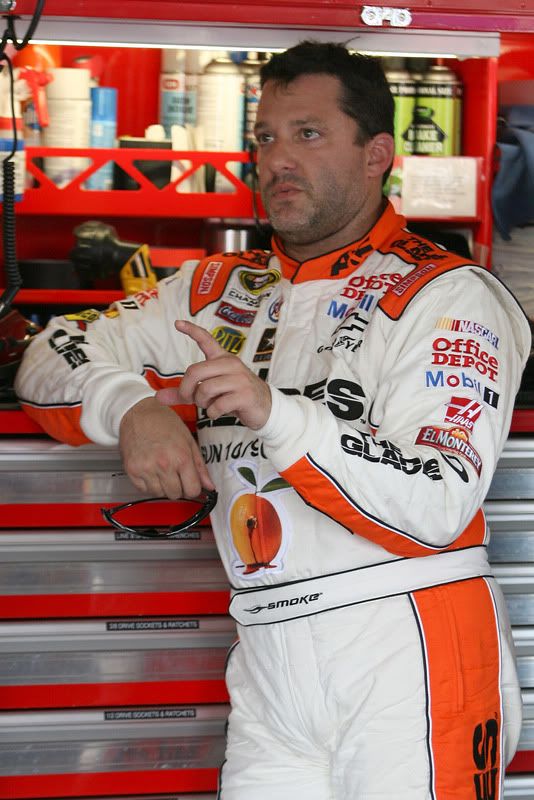 KANSAS CITY, Kan. – It's the old knife-to-a-gunfight argument, and Tony Stewart says he knows what is in his team's arsenal.
"I just know that you have to have a perfect lap time to run with them [Fords], and Charlotte was a really good example of that," the owner/driver said Friday at Kansas Speedway when asked about the Ford versus Chevrolet battle on the race track.
Engine-wise, he said, "I think Ford definitely has an advantage right now over the whole field.
"Anybody that doesn't have one [is behind[. ... They've been working on this motor [at Ford] for a long time, and we're still on about a 6-year old model. I'm really proud of Hendrick's engine department – they've been fighting a lot and have been really working hard to keep us where we're at."
Stewart, fourth-fastest in Friday's opening practice at the 1.5-mile Kansas track, heads into Sunday's STP 400 ninth in points but 18 races removed from his last visit to the winner's circle in NASCAR's Sprint Cup Series.
Chevrolet teams haven't been run out of town – three of the top five in the standings are Chevy branded – but Ford entries have been particularly strong on the series' 1.5-mile tracks thus far this year, with Carl Edwards winning at Las Vegas, Matt Kenseth dominating at Texas and generally showing strong a week ago at Charlotte before Kevin Harvick slipped in for his third win of the season.
Edwards and Kenseth. along with teammate Greg Biffle, combined to lead 214 of the race's 402 total laps at Charlotte. Toss in the fourth Roush Fenway entry of David Ragan, and the total was 221 laps led.
And it's tracks such as those that make up nearly one-third of the stops on the 36-race schedule.
"I don't think we have an advantage," Edwards, the series' points leader, said. "We might have a slight advantage at these 1.5-mile tracks. I feel like we are very competitive.
"The competition is really close and nobody is better than us right now. That is probably the best way to put it."
NASCAR, which tests Cup engines during the course of a season, tested the engines of six teams earlier this year – those of Jimmie Johnson (Chevrolet), Harvick (Chevrolet), Brad Keselowski (Dodge), Kyle Busch (Toyota), Martin Truex Jr. (Toyota) and Edwards (Ford).
Officials said Friday that the horsepower numbers were within 1 percent among the four manufacturers.
"We can go out and look at the dyno stuff NASCAR has," Edwards said, "but I can see it on the race track. We are not head and shoulders above the other people.
"We have caught up. I feel like before we were behind and worked on our cars quite a bit and now that we have caught up, it looks really good. But we can't lay off our engine program. We have to keep moving forward."
Edwards said that while he is "just going to have to disagree with Tony and say that we don't have a huge advantage," such talk is "what he's supposed to be doing."
"He's supposed to be kicking and screaming and looking for an advantage of his own," Edwards said.
Horsepower concerns aside, Stewart said he was pleased with his initial runs on Friday on a hot, slick track that appears to promise every lap being an adventure here this weekend.
"But that's the way I like it," he said.
"It's a challenge for sure to get your balance right and guys are already using the whole race track.
"You can have the best car out there right now and you're still not going to be happy with it. We're sliding around a lot, which is good. I like that side of it. It makes you never happy with it until you think you have it fixed all the way.
"It's just a constant challenge right now."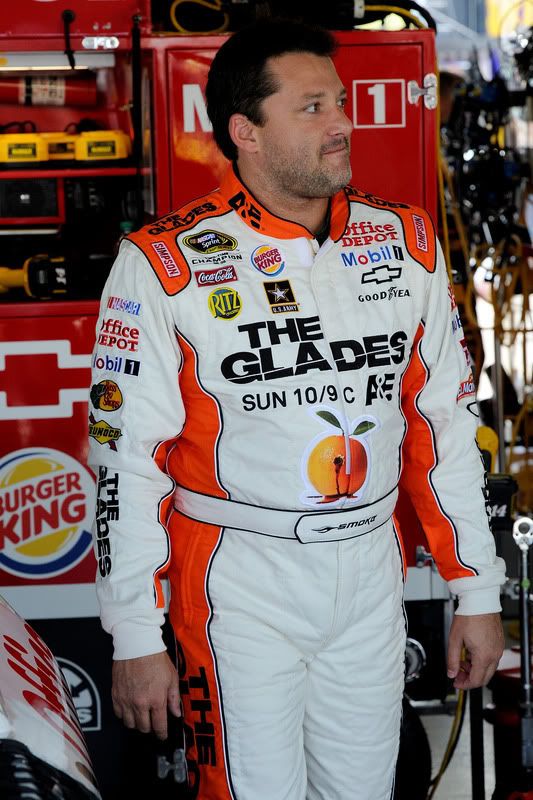 Those who intentionally live off another's labor will always want more free stuff!