Stewart Ready for A Coke and a Smile
Posted: 26 May 2011 02:54 PM PDT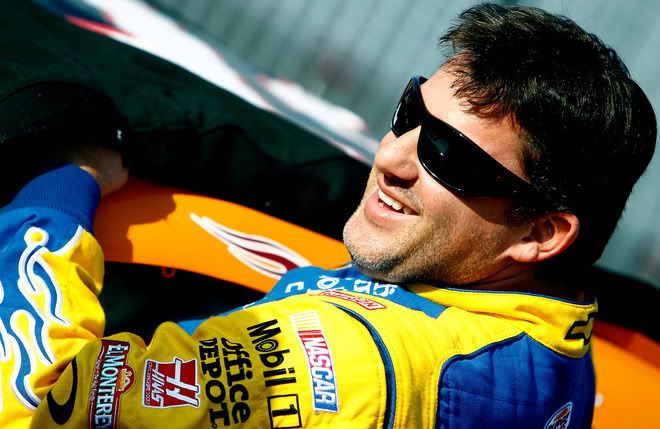 Photo by Jeff Zelevansky - Getty Images for NASCAR
KANNAPOLIS, N.C. – For Indiana native Tony Stewart, one event on Memorial Day weekend used to trump all others – the Indianapolis 500. But after more than 30 years of racing competitively – 13 of which have been spent in the elite NASCAR Sprint Cup Series – the Greatest Spectacle in Racing has, believe it or not, taken a backseat to the Coca-Cola 600 at Charlotte (N.C.) Motor Speedway.
Memorial Day weekend provides a motorsports mosaic, from stock cars in Charlotte to sports cars in Lime Rock, Conn., to the cornerstone of the weekend – the Indianapolis 500. Stewart pays attention to all of it, and for the better part of his career, Indy reigned supreme. And why not?
The recently turned 40-year-old grew up 45 minutes from the corner of 16th Street and Georgetown Road in Columbus. His first in-person look at the Indy 500 came when he was five, but by his eighth birthday, Stewart was no longer content to be a spectator.
His first go-kart race came in 1978 in Westport, Ind. His first go-kart win came in 1979 in Westport. And the first of his three go-kart championships came in 1980 at the Columbus Fairgrounds. They were all a prelude of things to come, as Stewart would go on to win four USAC championships, an IZOD IndyCar Series title, two Sprint Cup Series championships and the final International Race of Champions (IROC) crown.
Along that path, particularly when Stewart became a champion in USAC in 1994, won the USAC "Triple Crown" in 1995 and then advanced to Indy cars in 1996, the Hoosier seemed destined to become a mainstay at Indy. And he would, but in stock cars.
Like many other promising open-wheelers, Stewart made his racing home in NASCAR. He ran a five-race NASCAR Nationwide Series schedule in 1997 while simultaneously capturing the IZOD IndyCar Series championship. Twenty-two Nationwide Series races followed in 1998 in preparation for his rookie year in Sprint Cup in 1999.
With the exception of two "Double Duty" stints in 1999 and 2001 where Stewart competed in the Indianapolis 500 and the Coca-Cola 600 on the same weekend, Stewart hasn't looked back.
Long gone are the G-Forces and Dallaras. It's a Chevy Impala now and for Stewart's immediate future. That's because the owner of five Indianapolis 500 starts – with a best finish of fifth in 1997 – is now a NASCAR lifer. He's the co-owner of Stewart-Haas Racing, the Sprint Cup team he co-owns with Gene Haas, founder of Haas Automation – the largest machine tool manufacturer in the western world. And he's running for a third Sprint Cup championship, among the top-10 in points after just 11 of 36 rounds of racing.
Another foray to Indy while performing his regular job in NASCAR as the driver of the No. 14 Office Depot/Mobil 1 Chevy would take Stewart's eyes off the prize, and with more than 150 employees toiling at his shop in Kannapolis, it's a compromise he's unwilling to make.
As such, Stewart's mindset is like the old Coca-Cola slogan from 1982: "Coke Is It." He'll watch the Indianapolis 500 as an interested television viewer, but will participate in the Coca-Cola 600 as a tenacious competitor. And at the end of the 600-miler, which will wrap close to midnight, Stewart is intent on having "A Coke and a Smile" from Charlotte's victory lane.
TONY STEWART, Driver of the No. 14 Office Depot/Mobil 1 Chevrolet Impala for Stewart-Haas Racing:
Do you ever want to get back to Indy and run the 500?
"In my heart? Absolutely. I would love to do it. The problem with it is that Indy cars have become so competitive now. They have the push-to-pass button now. There are so many things that have changed since I ran Indy cars so many years ago, I'm not sure I would be up to speed and be able to get competitive enough, quickly enough. I have all the confidence in the world the cars I would drive would be competitive. But to really do it and do it right, and to feel like you have a legitimate shot to win the Indy 500, you would have to start at the beginning of the year with the team you're going to race with during the month of May."
The first year you did the double – 1999 – you said you felt like you were hallucinating during the last 100 miles of the Coca-Cola 600. Is that true?
"Obviously, I'm not Mr. Olympia and I'm not the healthiest guy in the world compared to a lot of the other drivers on the circuit, and the first year we were so worried about dehydration that I drank and I drank and I drank and I drank. I just never ate enough solid, nutritious food the night before. And the day of the race, I wasn't hungry because I was drinking so much to try to ensure that I was being hydrated. I got my body so out of whack that, by the time the 600 was done in Charlotte, I'd had enough. I was hungry 50 laps into the race. It's a 400-lap race in the 600, so 50 laps into it, it was still daylight. It was early in the race and there wasn't a Burger King drive-thru in sight. It made for a long day. We actually tried to get one of Bobby Labonte's PowerBars – try to get something in me to tide me over until the race was over. It didn't work. I got two bites of it and two bites did not make it the next 350 laps around Charlotte. It was a good learning experience. I think we finished ninth and fourth that year in the two races. It was a good learning year. We got our feet wet and raised a lot of money for charity that first year. Then we did it two years later with Ganassi at Indy and Gibbs in Charlotte. We had a nutritionist who was with us the entire month of May, so I was in a lot better shape. The first year, my girlfriend drove me home and I was sick the whole ride. The second time around, I drove her home and she slept. So, I was in a lot better shape the second time."
You're still the only driver who has a top-10 in the Indy 500 and a top-10 in the Coca-Cola 600 on the same day.
"We're still the only guy who's completed all 1,100 miles of the double duty, which is something I'm really proud of. I think the best two finishes we had was sixth in the 500 and third in the 600. It makes for a very, very long day. When you're done with the 600, after running Indy and the flight and helicopter rides and police escorts and all that during the day, you're very, very content to lay your head on a pillow. And even when you do that, it still feels like it's not stopped moving, yet."
You've won just about every race in Sprint Cup. How important would it be to add a Coca-Cola 600 win to your resume?
"Any time you win a race at Charlotte, it's big. It's a speedway with a lot of history and, obviously, the Coke 600 is a huge event. I'm a big fan of shorter races nowadays, but the 600 is truly a special event, with it being on Memorial Day weekend and the history of the Coke 600, when it was known as the World 600. There's just a lot of tradition that surrounds the month of May in Charlotte. So, this is a big race. This is an important race to win."
Even though the two races take place on the same racetrack, how different is the All-Star Race from the Coca-Cola 600?
"We go from the shortest race of the year to the longest race of the year. The main difference, besides the distance, is that the Coke 600 starts in the daytime and ends at night, whereas the All-Star Race starts and finishes at night. We go from a sprint race to an endurance race."
You've had a handful of races in your career that you feel like you should've won, but is the 2008 Coca-Cola 600 the one that sticks out most?
"Yeah, that's definitely the one that sticks out the most in my mind. I mean, we had a five-second lead with three laps to go. We lost the right-front tire, but it wasn't because of a mistake by Goodyear. It was the fact that we had run 100 laps on the right-side tires, so it just physically melted the bead on the right-front. So it wasn't any fault of Goodyear's. It was just circumstances."
TONY STEWART'S CHARLOTTE PERFORMANCE PROFILE
Year Event Start Finish Status/Laps Laps Led Earnings
2010 Coca-Cola 600 26 15 Running, 400/400 1 $137,998
Bank of America 500 29 21 Running, 334/334 0 $106,548
2009 *Coca-Cola 600 28 19 Running, 227/227 0 $109,973
NASCAR Banking 500 5 13 Running, 334/334 0 $100,373
2008 Coca-Cola 600 31 18 Running, 399/400 23 $152,961
†Bank of America 500 7 11 Running, 334/334 42 $140,536
2007 Coca-Cola 600 14 6 Running, 400/400 55 $179,661
×Bank of America 500 29 7 Running, 337/337 0 $135,111
2006 Coca-Cola 600 32 42 Accident, 32/400 0 $135,456
Bank of America 500 31 13 Running, 333/334 0 $125,336
2005 Coca-Cola 600 9 24 Running, 398/400 0 $132,461
×UAW-GM Quality 500 4 25 Running, 328/336 61 $139,561
2004 Coca-Cola 600 6 9 Running, 400/400 0 $137,678
UAW-GM Quality 500 15 10 Running, 334/334 0 $113,903
2003 *Coca-Cola 600 6 40 Running, 245/400 68 $140,528
UAW-GM Quality 500 6 1 Running, 334/334 149 $312,478
2002 Coca-Cola 600 10 6 Running, 400/400 0 $126,028
†UAW-GM Quality 500 1 3 Running, 334/334 22 $136,628
2001 Coca-Cola 600 12 3 Running, 400/400 0 $132,300
UAW-GM Quality 500 6 2 Running, 334/334 130 $131,100
2000 Coca-Cola 600 9 14 Running, 399/400 2 $62,300
UAW-GM Quality 500 17 4 Running, 334/334 30 $84,650
1999 Coca-Cola 600 27 4 Running, 400/400 13 $76,275
UAW-GM Quality 500 5 19 Running, 331/334 0 $39,315
* Race cut short due to weather.
† Qualifying canceled due to weather, starting position set via car owner points.
× Race length extended due to green-white-checker finish.
Those who intentionally live off another's labor will always want more free stuff!