All things Tony
Jellikit, one thing you should know about MW...he's an overachiever.
Life is hard; it's harder if you're stupid-John Wayne
HiddenHollow wrote:

Jellikit wrote:I'm still resisting the twitter "fad".

I actually think I've heard he is pretty funny there.

Cool thing about twitter is that the celebs do actually interact with the fans there some, unlike other outlets.

The piece they did with Danica on her career, where they talked a bit about twitter, was pretty good. A lot of insight in the interview.

May have to succumb to this new trend.

I joined earlier this year. I use it mostly to follow folks associated with NASCAR. Drivers (& wives), spotters, crew chiefs, but especially most of the Speed/ESPN/Fox reporters. I usually pick up some good info from their posts. I seldom tweet myself. They do interact with us fans. I've gotten answers to several questions. Mike Joy especially will answer a lot of fan questions.
Same here. I don't "tweet", but I do follow a fair number of people and companies. Its also a good thing to have up during the dirt races because you can get updates on how Tony & Schatz and the others are doing. Its also good for news outlets too if you are into that like I am.
house i use it for the news too, weather also, i even tried it for elections, its is the best way to get up to date info, now will i ever follow KIM K, heck no, not really interested in what tv or movie stars are doing.
I miss you Frehley........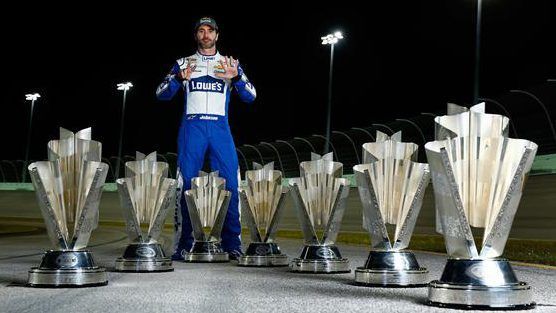 lmalley wrote:Did you hear JJ's post race interview? "I don't think I made a wrong move at all tonight!" or something close to that. Really? Don't we think highly of our self? Didn't he slam Ambrose out of his way bashing him into KK crashing him into the wall? I watched that replay over and over and it looked to me like he did it on purpose. Its his prerogative, after all, but his back patting is sickening.
You can all call me sour grapes now if you want, but his strutting and preening is irritating.
He blocked Marcos but I don't think he did it with the intent of wrecking him and certainly not Kahne. As for his remark in victory lane, I took it as being in a self-deprecating manner. Jimmie, to me, generally comes across as humble and grateful for what he has accomplished because of where he has come from. A lot of his fans are complete idiots, but every driver has those.
"This one's for every one of those fans in the stands that pull for me every week and take all the bull**** from everybody else." - Tony Stewart, July 29, 2007
should check the car real good they are up to their old tricks
My personal opinion is that he feels threatened because he probably will not get #6. Maybe copping an attitude is his only defense.
---
Who is online
Users browsing this forum: No registered users and 4 guests