Tue Mar 15, 2011 12:39 pm
Unbelievable interaction between dog and human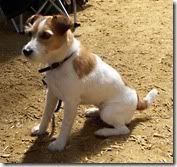 Jack Russell
This is an amazing video of a well trained dog.
Coupled with the "UNCONDITIONAL LOVE" FACTOR, who could say no.
Tue Mar 15, 2011 1:55 pm
I'm not normally a big "jack russell" fan, but Jesse is absolutely precious! Would have to love that little guy!
Tue Mar 15, 2011 2:12 pm
Yeah, I know what you mean. They are pretty hyper dogs. My friend raises them. I thought my Border Collies were hyper, but those little dogs are worse. Very Smart.
Tue Mar 15, 2011 3:12 pm
That was ADORBLE!!!!
I SOOOO need one of those dogs.... hee hee hee
Tue Mar 15, 2011 8:45 pm
That was so freaking cute omg I love
that dog!
Wed Mar 16, 2011 2:38 am
That is just so precious. A dog that does windows, that is so cute. Think we can get him to polish the furniture too.

Think of the attitude you would get from a cat if you asked him to do all that. We would start with...Are you talking to me?
Wed Mar 16, 2011 10:14 am
This is one awesome dog.
Thu Mar 17, 2011 7:52 pm
The only thing I would ask the dog to do is about the only thing not included in the video... Pick up his own poop...

He is adorable though...