Mon Jul 23, 2012 10:06 am
If your up to it. Post pictures of your hot rods you had in your youth or current!
It's a slow week...........
I grew up around fast cars but never owned one myself. Being a child of the 60's-70's. I can remember a lot of factory fast hot rods that rolled off the assembly line ready to go!
You woman out there I know had fast cars!
If you never owned a hot rod. At least show pictures of your dream car you WISH you could own!
My dream car is being shown below! My dad had a 1957 Chevy convertible he sold many, many years ago. He also had a 1968 Chevy Camaro 327 C.I.
Attachments

1957 CHEVY CANDY APPLE RED....SWEET!
tn_full_SnS_-_57_Chevy_Photo_001.jpg (110.33 KiB) Viewed 2976 times
Last edited by
chevy39fan
on Tue Jul 24, 2012 2:52 pm, edited 1 time in total.
Mon Jul 23, 2012 11:12 am
Oh my goodness, Your Dad had a jewel with this car. Everyone growing up in the 50's drooled over the 50's cars and worked hard to buy one. I never saw a candy apple red car but it is just plain beautiful. I don't have pictures but I hope those that do will post and give us a flash of the past. Thanks for starting this thread.
Mon Jul 23, 2012 11:19 am
my baby.... 300c with a hemi.. it has muscle along with class.........
Mon Jul 23, 2012 5:00 pm
That is a beautiful car Michael but since I don't have a clue please tell me who the car maker is. Thank you.
Mon Jul 23, 2012 9:49 pm
Oh, Oh, Oh, I got this one...

CHRYSLER
Mon Jul 23, 2012 10:08 pm
yup the beav is right, its a great car, eats a lot of gas bein a v-8 but handles great.....
Mon Jul 23, 2012 10:18 pm
Doesn't look like your average hotrod, but let me tell you this car had some testicular fortitude. I always called it a granny mobile on steroids. I loved this car, and it about broke my heart when I had to get rid of it.
Not my actual car, but the exact same car.......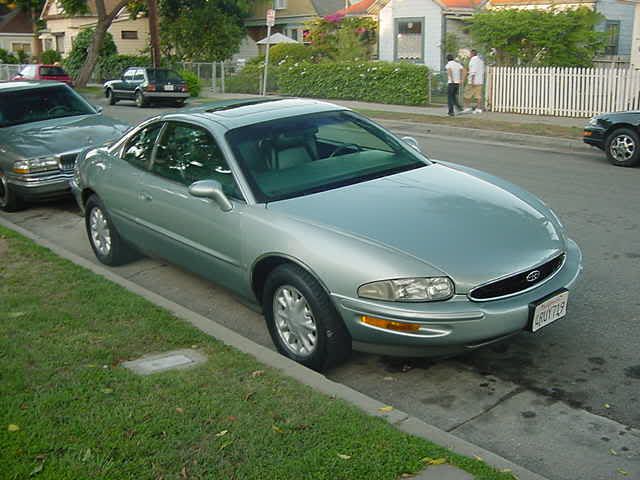 Mon Jul 23, 2012 10:24 pm
Is that the Buick Riviera...have not seen one in so long that I am just guessing.
Mon Jul 23, 2012 10:32 pm
beaverpond wrote:Is that the Buick Riviera...have not seen one in so long that I am just guessing.
It is indeed.... V-8 supercharged engine, fully loaded.... was just a badass ride.
My job killed it though, had over 200,000 miles on it driving sometimes over 1000 miles in a 5 day work week just to make a living. The front end ended up going out on it, the manifold cracked. could not afford to put it back together, ended up donating it to charity. I don't miss the gas mileage but I miss the car all the time.
Tue Jul 24, 2012 9:43 am
I was in high school when this wonderful "oil burning" beauty was available. A lot of people dropped V8's in this little car by Chevy! It was bad fast with those V8's. Only problem was the strength of the frames.
1973 Chevrolet Vega GT...........Mine was a lighter green metal flake green with the white strip on the hood. I later blew a head gasket and sold it!
Attachments

tn_full_9-3-2008025jpg_Thumbnail1.jpg (92.08 KiB) Viewed 2952 times
Tue Jul 24, 2012 9:52 am
This was the car I really wanted! After seeing the movie,"Smokey And The Bandit".......we all wanted this Trans Am!
Tony Stewart has one like this pictured. Loved that car............
Attachments

77transam1.jpg (88.48 KiB) Viewed 2944 times
Tue Jul 24, 2012 10:06 am
Joined the Army in 1979 and thought I would end up with one of those 1977 Pontiac Trans Am's.
But, making only about $7,000.00 per year as a soldier. I ended up with a 1975 Plymouth Duster. This car was a major "pig." Oil burner deluxe junker!
The picture below is the exact same color and car!
Attachments

1975 Duster orange ds.jpg (168.55 KiB) Viewed 2944 times
Tue Jul 24, 2012 10:32 am
This is my current car! It was only $275,000.00 plus taxes. Has about 508 horse power. Love those Italian muscle cars!
It's a Ferrari 575M Maranello F1.......fast and pretty!
Attachments

KIDDING! I COULDN'T AFFORD THE STEERING WHEEL ON THIS FERRARI!
Ferrari_AssetResizeImage.aspx.jpeg (33.42 KiB) Viewed 2944 times
Tue Jul 24, 2012 5:02 pm
How about Fords muscle car....love those Mustangs!
Oh, you would have this car I know!
Attachments

Shelby-GT-350.jpg (74.54 KiB) Viewed 2937 times
Tue Jul 24, 2012 5:34 pm
I had one o' these.....different color but same model....we called it the "War Wagon". It took out its share of snow banks and campaign signs back in the day........