Tue Sep 24, 2013 4:26 am
Self-explanatory thread, but what are your favorite Kevin Harvick paint schemes? Can be from any year or series, I mean if you were in love with the Spears 75 car he won the NASCAR Winston West title with in 1998 (same scheme Wayne Spears used on the truck he owned till he pulled out of the NCWTS, only on a Monte Carlo), go for it. Hey, it was a good-looking paint job.

My personal favorite is probably the standard 2002 GM Goodwrench scheme. Was a terrible year - up until 2009, Kevin's worst by far in terms of results - but the car looked great. It was weird to root for a GM Goodwrench car after all the prior years of rooting against Earnhardt and even in 2001 having quite a few issues with some things Harvick did on the track. The 2003-06 Goodwrench car was pretty awesome looking too. I think I liked the '04 one the best in terms of how the whole car looked with the associate sponsors and everything, but the scheme itself looked great all four years. My favorite special paint scheme from the Goodwrench era was the 2005 reverse scheme, run as a tribute to Earnhardt's Quicksilver car from ten years earlier (part of the GM Goodwrench/RCR 20 year celebration). Unfortunately it got destroyed in the All-Star race after Tony bumped Nemechek and set off a massive pileup that had Kevin and Joe going helmet-to-helmet in the frontstretch grass, haha.

The Shell/Pennzoil scheme looked great on the 2007 Monte Carlo, but didn't lend itself as well to the boxier COT. It still looked decent, but I know a lot of Kevin's fans - in terms of him being their favorite driver I mean - really didn't enjoy his colors being yellow and red, though.

The black Budweiser cars were nice, but I think this year's is the best Bud scheme I've actually watched on TV (first one I remember was Geoff Bodine's solid red car for Junior Johnson in 1990, so I missed the predominantly white cars that Darrell and Terry Labonte - and for 1984, Neil Bonnett - drove, though Kahne did run a throwback complete with period Budweiser decals in 2010 at Darlington I think). I wouldn't mind at all if they peel the 29s off and slap 4s on and keep it as his scheme for next year.

He's had a lot of great Nationwide cars too, the Rheem 33 from 2008-11 and the Reese's 21 from 2004-05 especially jumping out. If Vienna Sausages didn't make me want to throw up I'd probably like the Armour scheme too. The 2003 PayDay car was great too, turned that into my favorite candy bar for nearly the entire season, haha.

As far as cars and trucks he and Delana owned and others drove, have to go with Tony's 33 Old Spice car and the 6 Goodwrench truck that Crafton ('04) and Hornaday ('05) drove.
Tue Sep 24, 2013 8:49 am
Some of my favorites are:
2012 Budweiser Folds of Honor
2001 GM Goodwrench Black Numbers (his 1st race after Earnhardt's death)
2002 GM Goodwrench regular paint scheme
2003 GM Goodwrench Red Bud Shootout car
2012 Budweiser regular paint scheme
Tue Sep 24, 2013 10:15 am
Forgot the 2012 Folds of Honor car. LOVED that one.
Tue Sep 24, 2013 10:47 am
2011 Military Tribute car from Coke 600
2002 Stars & Stripes car from NHIS
Tue Sep 24, 2013 9:13 pm
#4 Black Budwiser/Jimmy John's over here!!!
Tue Sep 24, 2013 10:02 pm
Any paint scheme that has RCR, not SHR, on it
Tue Sep 24, 2013 11:52 pm
I have been digging up some paint schemes...not just talk, but some actual photos.






Tue Sep 24, 2013 11:54 pm
Tue Sep 24, 2013 11:56 pm
Tue Sep 24, 2013 11:58 pm






Of all twelve pics I just posted I think my favorite has to be the last one of the Rheem car.
Wed Sep 25, 2013 12:59 am
out of the ones you showed I like the Platinum Pennz car.
Wed Sep 25, 2013 5:46 am
2011 real tree/budweiser
2011 black budweiser (just clasically awesome)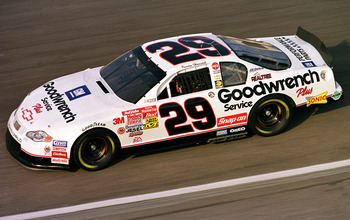 2001 special paint scheme
and the 2007-2009 shell/pennzoil paintscheme (already posted)
Wed Sep 25, 2013 8:14 pm
azk8ster wrote:Any paint scheme that has RCR, not SHR, on it
Where's your team spirit,we aren't afraid he'll show up Tony are we?
Wed Sep 25, 2013 8:18 pm
Tazmanian Devil car and the near all black GoodWrench car just before Penzoil came onboard far as the #29 goes.
Sat Sep 28, 2013 8:35 pm
I like Kevin's Tide schemes from the truck series.